Michigan Urban Suburb Is Yearning for Healing, Trust, and Covid Funds
Editor's note: The American Communities Project asked a few community leaders around the country to share their hopes and what their community most needs from the new Biden administration.
President Joe Biden has promised to be a president for all Americans. He has said this is a time to heal in America. Kent County welcomes this.
As Kent County's Administrator, I yearn to regain peace and hope after glaring racial inequities have opened wounds and stirred unrest. I long for healing and strength as we emerge from a pandemic that has decimated the health of our people and the vitality our local economy. But when political divisions still run deep, social inequities still plague our cities and towns, and hospitals are still filled with the sick and dying, what do healing and unity look like at a community level?
To heal and unify, we must regain trust. Trust is the currency of democracy and the working capital of innovative governments. To regain trust, we must first understand that unity does not mean homogeny. We will always have differences, particularly the farther we go from our own front door.
Washington, D.C. is a long way from the doorstep of Kent County (pop. 656,955), classified as an Urban Suburb in the American Communities Project. Federal, state, and local officials do not always see eye-to-eye on how to serve the people effectively and efficiently in local communities. Instead of criticism and suspicion, we seek trust and leadership. In my opinion, those have been in short supply of late.
What's Eroded Trust
As federal lawmakers debated the latest Covid-19 relief package, their narrative about state and local governments was false and destructive. Claims of self-dealing, ineptitude, and inefficiency were demoralizing and frustrating for public health officials on the front lines of the pandemic, for police officers and first responders who put their lives on the line each day, for social service providers charged with retooling programs for people whose health and economic well-being were in peril, and for administrators and many elected officials who had to navigate the changing circumstances and lead through unprecedented uncertainty.
State and local government officials are those most directly responsible for the well-being of our communities and our residents. We are on the ground delivering essential services. We are the face of public safety. We are the voices who speak from the doorstep to calm local unrest and ease uncertainty. The delays and funding inadequacies that resulted from the congressional debate were shortsighted and put communities in Kent County on the brink of disaster. The shortfalls eroded trust, not only between local and federal government officials, but between the government and our people. This must not continue. People are hurting — mentally, physically, and economically. We need leaders in Washington who will stand with us to address their trauma.
Why Localities Need Covid Aid
I humbly call upon President Biden and the new Congress to immediately remedy the biggest oversight in the recently passed Covid-19 stimulus relief package. While the relief included many vitally important provisions, it omitted direct and flexible aid for counties and other local units of government. This aid would enable Kent County, for instance, to assist many of the 380,500 Michigan residents who have lost their jobs, and many who have lost or are at risk of losing their homes.
It's also vital for the administration to develop and fund a cohesive, comprehensive plan for vaccine distribution — one that maximizes efficiencies while targeting high-risk and underserved populations. This effort should also work to improve testing capabilities and contact tracing in high-risk minority communities in both urban and rural areas.
Prioritize Small Business Support
Kent County's small businesses are hurting, too. Michigan has taken an aggressive approach to combat the spread of the virus. That has included months-long shutdowns for many businesses — including bars and restaurants, which are due to reopen, only on a limited basis, on February 1 after being closed to indoor service since November 18, 2020. While it's impossible to determine the exact scope of the impact, many small businesses in Kent County will permanently close their doors without additional meaningful support.
Our new administration should help mitigate these losses and continue the work that Congress began with the Paycheck Protection Program and other small business support. I was encouraged by set asides in the recent stimulus bill that will help ensure that minority businesses are not left out, and I support additional funding for the Minority Business Development Centers program under the Minority Business Development Agency.
I further urge the Biden administration to support assistance for community lenders, including Community Development Financial Institutions (CDFIs), Minority Depository Institutions (MDIs), Certified Development Companies (CDCs), and microloan intermediaries. Investments made today in small business recovery will pay big dividends in the long-term health of our economy and our communities.
I affirm the Biden administration's calls for unity and healing. Those calls must be met with trust and leadership. We stand ready to offer both.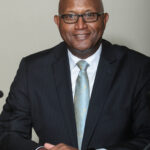 Wayman P. Britt is Kent County Administrator.