St. Francis County, Arkansas: African American South
How you view St. Francis County, Arkansas, depends, in part, on where you stand. It is 634 square miles of terrain heavily defined by divisions. The most obvious split is the one that follows Interstate 40, which bisects the county from the northeast to the southwest. The highway brings an urban element to a community that is firmly planted in rural America.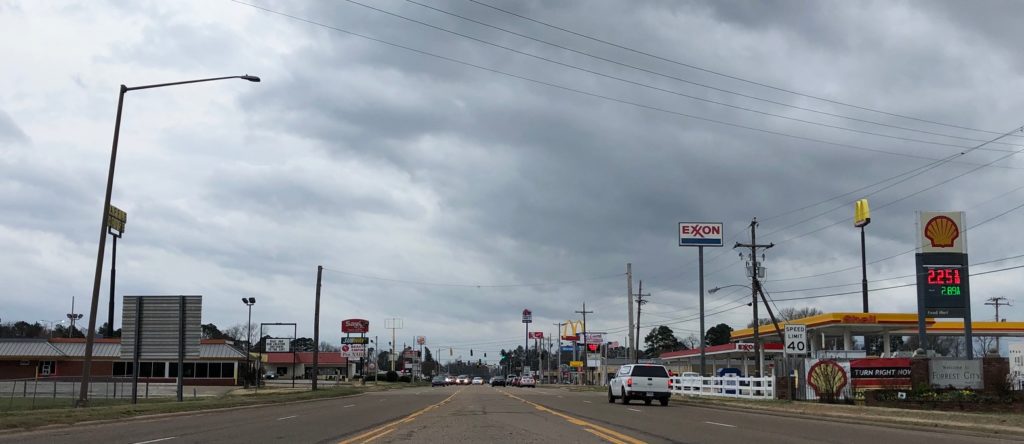 But the other major divide is subtler and only surfaces when you talk to the people here about the county's history and its current challenges. It centers on race and how white and African-American citizens interact — and don't interact — in the county.
You can see the way both splits impact St. Francis in the county seat, Forrest City. Near the interstate, the city's skyline is a collection of elevated gas stations and fast food signs. But drive a few blocks and you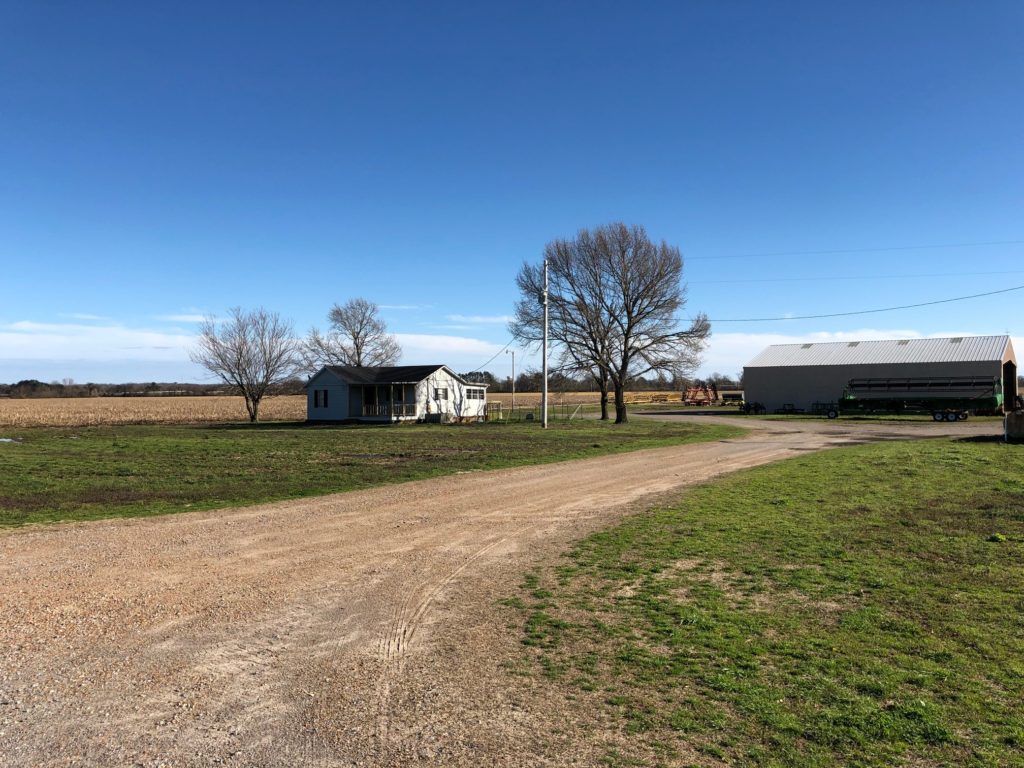 are on a small-town main street, a few blocks farther and you are in neatly plowed field.
The county is more than 50% African American, but the vast majority of that population is packed into Forrest City. Outside the city, the county is majority white and most people will tell you there isn't a lot of mingling between the races.
"You can see it. It's upfront. It's not hidden. And it's a shame, but it's still here," says Steve Smith, the local health unit administrator in the county, who is African American. "There's just a separation.… There's just a feeling that this is the way things are supposed to be."
St. Francis County Index
St. Francis County Within the African American South
The Racial Climate, Past and Present
Agriculture's Dominant Role in the Local Economy
Health Challenges Around Inactivity and Teen Pregnancy
Building Social Capital and Bridging Divides
Seeing White Flight and Academic Triumphs in Education
One County, Different Identities
St. Francis County Within the African American South
In the American Communities Project typology, St. Francis is an African American South community, and it looks like many of rural communities in that type.
The life expectancy here is 74.7 years, just under the rural African American South median of 75. And the percentage of people with at least some college, 43%, is close to the broader category number of 49%. Both those numbers are under the overall rural median of 56%. Income inequality here matches the overall number for the rural African American South.
But St. Francis faces some specific challenges. Nearly half of the residents are obese, 47%, compared to a median of 35% in the rural African American South communities overall. People are more likely to smoke as well. Home ownership, 59%, lags far behind the number for the rural African American South, 70%, and further behind rural America overall, 73%. It struggles as a persistent poverty county.
As a rural community, St. Francis faces some familiar challenges: the need to hold on to young people and bring in more jobs and employers. But as the county tries to move forward, the people here understand the area's deeply-rooted racial divide may represent its most complicated hurdle.
The white and black populations here live in different worlds, as their incomes illustrate. The median household income in St. Francis is about $31,500. That's well under the median for the type, $39,000. But the number worsens when you factor in race. The median household income for African-Americans in the county is only $28,300.
African-Americans in St. Francis are also much more likely to have babies with low birth weights. Additionally, their life expectancy is three years less than their white counterparts.
The Racial Climate, Past and Present
The history of the racial divides runs deep. Forrest City was named for Confederate General Nathan Bedford Forrest, the city's founder and the first grand wizard of the Ku Klux Klan. As in much of the African American South, the civil rights era was especially painful here.
Weston Lewey, who grew up in the city and for 32 years was the owner and publisher of the local daily newspaper, the Times Herald, recalls the racial tensions when Forrest City High School school integrated. Her father was the owner and publisher of the paper at the time.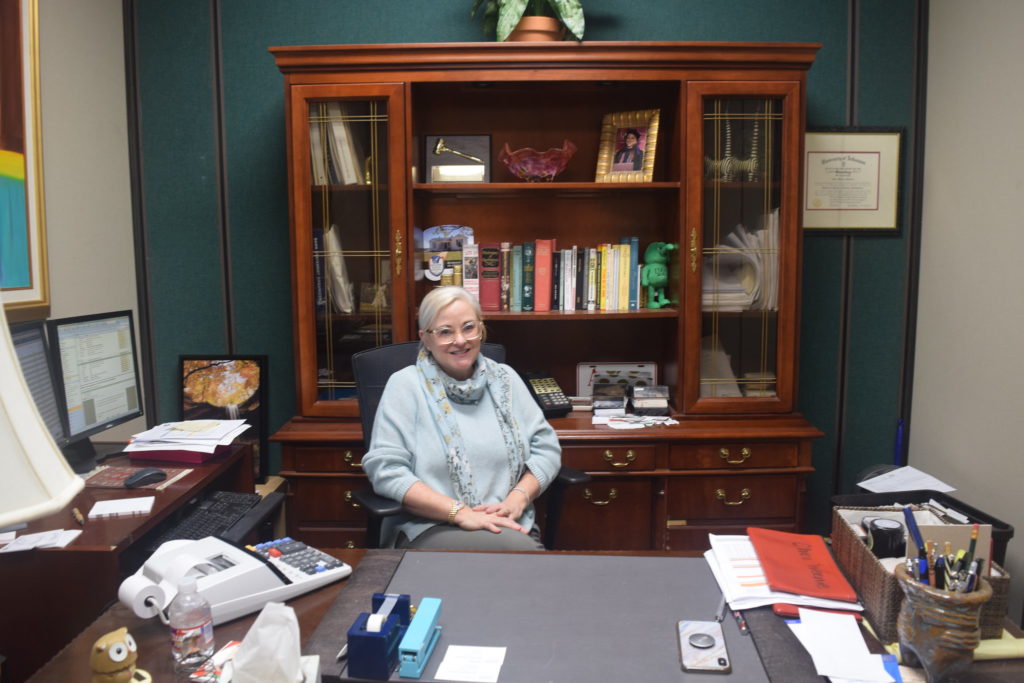 "My father wrote an editorial that basically said, black people are citizens and the federal government is telling us that they are going to go to school with white kids, and we're not going to refer to them as negroes in the paper anymore," she says. "He got threatened with his life and we had to go stay at a hotel in Memphis. … It was a tough time, but we weathered it. And to me that was the worst time in Forrest City's history."
The divides still exist today, albeit in a much quieter way. It's apparent in the limited interactions between whites and blacks day-to-day. People say it's particularly palpable on Sunday during religious services, mentioning how Rev. Martin Luther King Jr. had called it "the most segregated hour" in America. Community leaders acknowledge that in the past it's been difficult to get the whole community on board to tackle its larger challenges.
Agriculture's Dominant Role in the Local Economy
The divides are even more remarkable in St. Francis because in the broader sense, the county holds a small-town feel.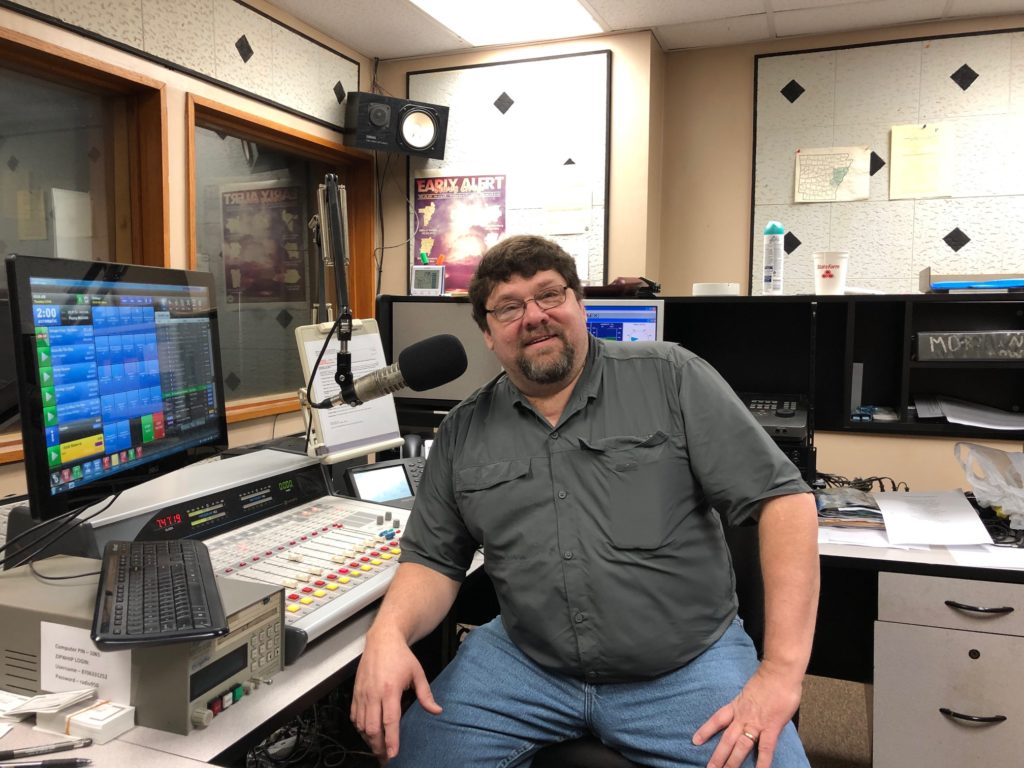 The community is still "farm driven," says Rob Johnson, manager of the local radio station KXJK AM & KBFC FM. "It's a rural community, a very friendly community," he says. And his station is a prototypical local news outlet, with a focus on local.
"We still cover school board meetings and city council meetings to let people know what's going on in our community," Johnson says. "You're not going to get on satellite radio, you're not going to get on Pandora. We still broadcast high school football games every Friday night."
The last few years have brought economic challenges to the community, Johnson says. Agriculture has taken a hit with dropping grain prices and harsh weather. "If farming doesn't turn around, I think that's the biggest concern for not just the county but the city as well. I've talked to local business owners that say, you know, even though they're not a farm business, they still rely on farm dollars."
St. Francis doesn't rely wholly on agriculture. There is small manufacturing in the county — a Boar's Head plant that produces deli meat — and a federal correctional facility sits just outside Forrest City. But even with those elements of diversification, employment opportunities are not easy to come by here. In March 2019, the unemployment rate for the county was 5.4%, 1.5 points above the national average. And those harder economic times likely have something to do with the county losing residents — St. Francis has seen its population drop by about 10% since 2010.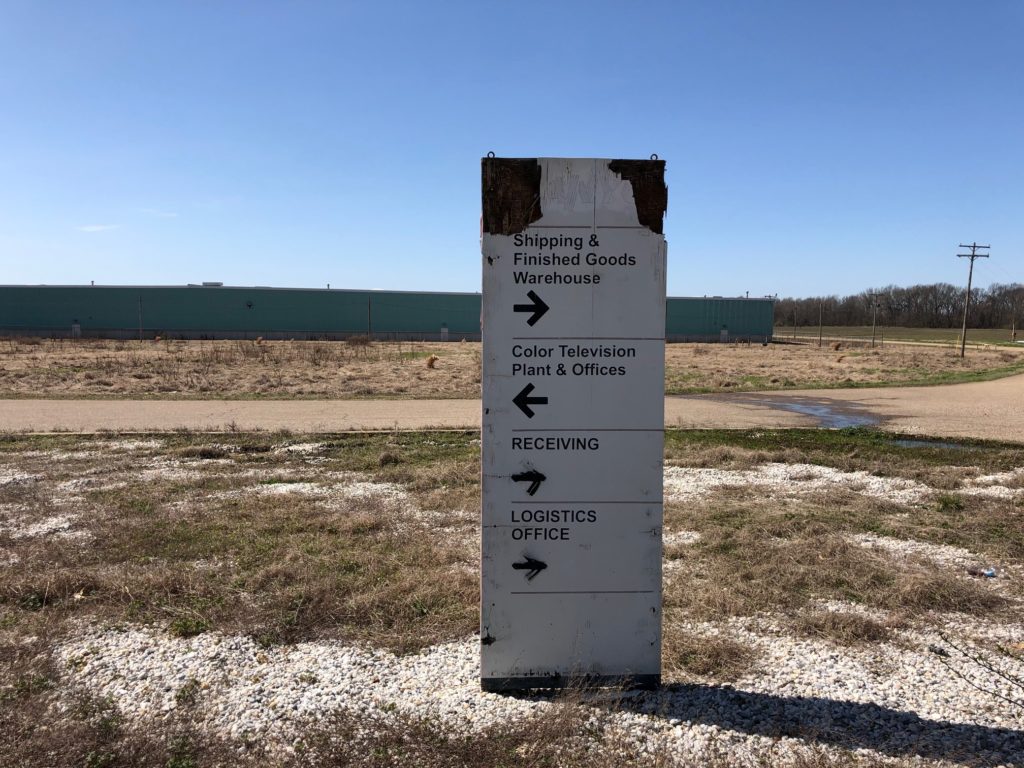 Recently, hopes were high that a long-vacant factory might come back to life, but those plans have hit a roadblock. The plant, on the corner of Sanyo and Commerce roads, made televisions from 1977 to 2007, but has been empty since then. In 2017, the city learned that the Shandong Ruyi Technology Group planned to spend $410 million to convert the space into a spinning yarn mill that would employ about 800 people. The renovation work had begun.
Then, the U.S.-China trade fight tariffs hit and workers went home. And the sprawling facility went back to sitting untended on the edge of the city.
"There are various factors that have gone into the delay, but the main factor is the tariffs," says Forrest City Mayor Cedric Williams. "When the tariffs hit, they don't know what their costs would be to ship back to China.… We're at a standstill until they get that resolved."
Resurrecting the plant would be huge here. The 800 jobs there would make the new plant the biggest employer in the county. The nearby federal prison employs about 650 people.
Mayor Cedric Williams describes why residents are slow to embrace technology.
Health Challenges Around Inactivity and Teen Pregnancy
When you add those economic challenges with the community's divided nature, you find impacts on health. Generally speaking, the rural communities of the African American South score below the median for rural communities overall on a number of health measures. However, St. Francis often underperforms against those numbers.
On poor physical health days, St. Francis scored 4.8 per month compared to 4.4 days for the rural African American South communities and 3.9 days for rural communities overall. On poor mental health days, St. Francis scored 4.9 days compared to 4.3 for the rural African American South counties and 4.0 for rural communities overall.
St. Francis specifically struggles with fitness and obesity. A high number of adults report physical inactivity, 37%, compared with 30% for the rural African American South and 26% for rural communities overall. And 47% of adults in St. Francis are obese, compared with 35% in the African American South and 33% in rural America overall.
The county's teen pregnancy problem is particularly serious. The 2019 County Health Rankings reports that 80 out of every 1,000 15- to 19-year-old females in St. Francis gave birth. The number is 42.7 out of every 1,000 in rural African American South counties. In rural America overall, the number is 32 out of 1,000.
Making those teen pregnancy numbers more remarkable is the racial breakdown. Among African American females in St. Francis County, ages 15 to 19, the number is 89 for every 1,000. Among white 15- to 19-year-old girls in St. Francis, the number is 63 for every 1,000.
Smith, the local health unit administrator, says those are the dominant issues he sees day-to-day in his work. In addition, the lack of transportation in the county is a real problem. People are unable to make their doctor's appointments or visit the county health office.
Those numbers show how basic measures of health can be deceptive. If one were to judge St. Francis by its uninsured rate, there would be reason to be pleased. It's below the number for similar communities in the African American South.
But those data mask the more complicated story of how hard it can be to deliver health care in rural communities.
Building Social Capital and Bridging Divides
With the low incomes and sprawling area, it's difficult to create and maintain programs for children that will encourage them to be active and start out on the right life path.
In the absence of funding for a formal system, individuals have stepped in. Jim Bailey, a local man who grew up in the area, created his own sports program for kids, JB Sports. Close to 200 children play baseball, basketball, and football in his league. Sponsors cover the costs, and there are no registration fees.
"He bought a bus and a huge plot of land, and you go out down highway 79 on the left hand side, you'll see a big sign that says Bailey's Field," Smith says. "He put some sod down, had some football fields and baseball fields. It was all him doing it and just recently he just got it as a 501(c)(3) and started to, you know, do things the right way."
It's a start at building the social capital the community has long needed and that has been lacking because the different parts of the community didn't really trust each other, Forrest City Mayor Williams says. Williams, who only moved to the community six years ago, says he made his newness a selling point in his winning campaign last year.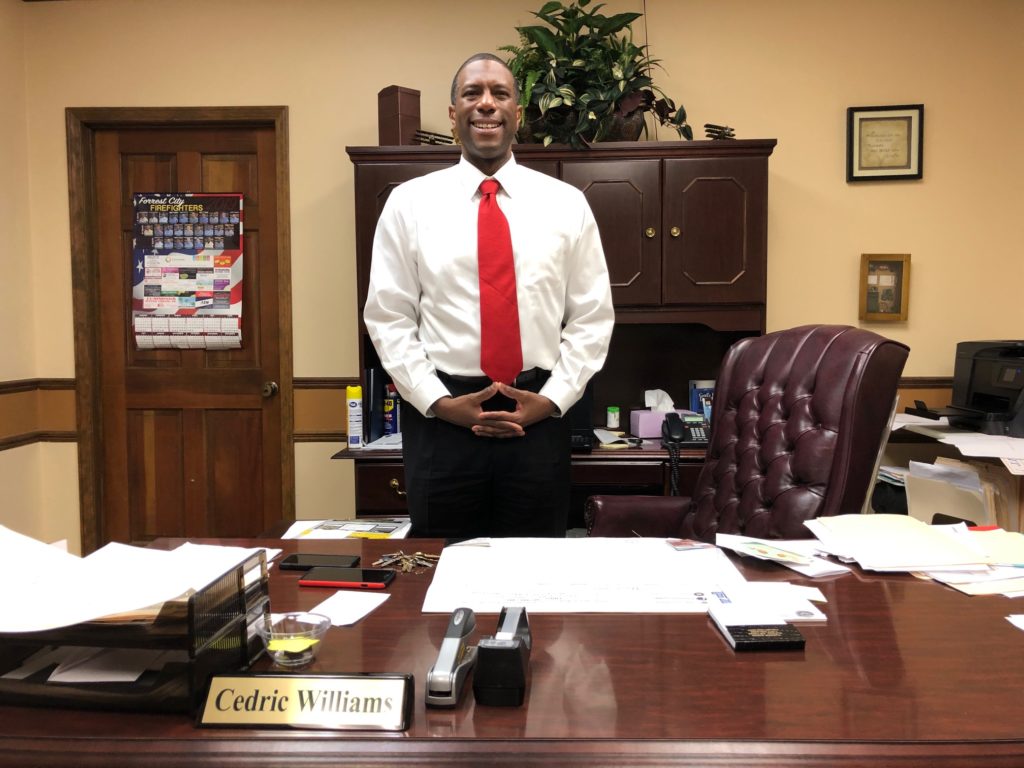 "I feel a lot of that division was from people who actually had grown up here all their lives, but were holding grudges against each other. In my campaign, I always joked that my not being from here was a positive because I didn't pull anybody's hair back in the sixth grade," he says. "I was involved in different aspects of the chamber, rotary, different things as far as trying to move the community forward. And I found the leadership of these organizations not working together but really trying to work around each other."
Williams' election is one aspect that seems to have united the community — blacks and whites alike. Across the area, people cited Williams as a hope for the city's and the county's future. The community recently held a summit on race to bring people together and try to address some of the concerns around that thorny issue.
"If we say racism doesn't exist, we put our head in the sand, we just need to be honest on that aspect," Williams says. "We have to acknowledge that, but this is how we work together and move forward from that standpoint."
Seeing White Flight and Academic Triumphs in Education
Williams notes that the kids in the community are not the problem. Racial differences don't concern them. It's the parents who create a lot of the challenges and you can see how in the local schools. St. Francis may be a rural community, but it's facing an urban problem of white flight in its public schools.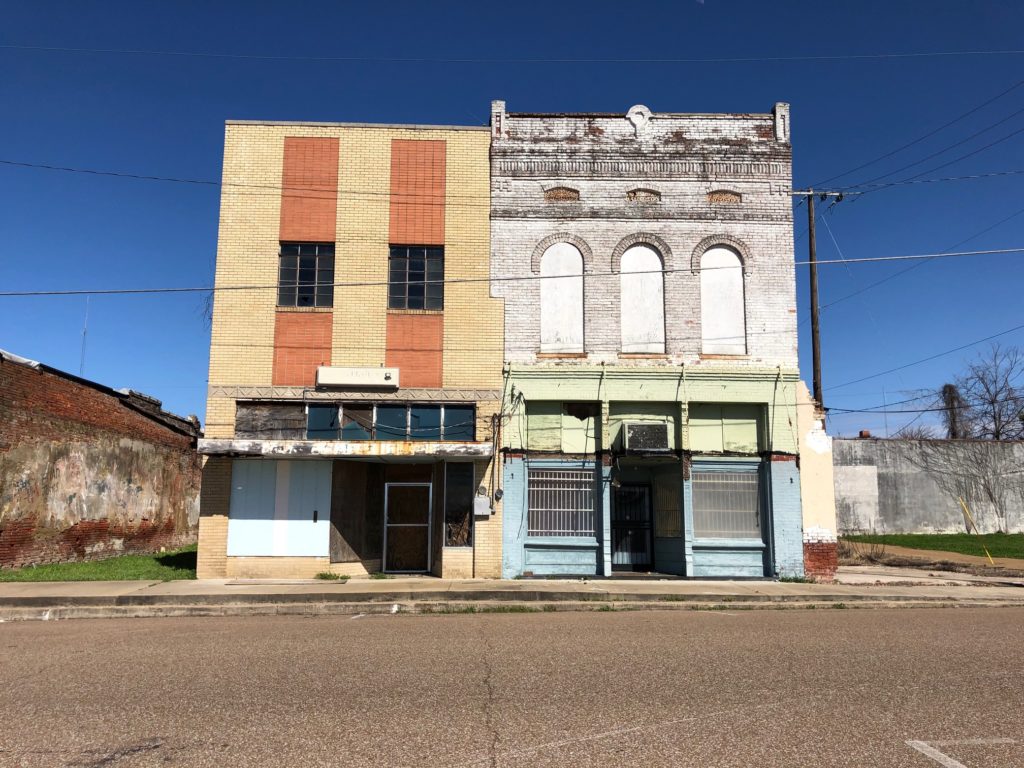 Forrest City Schools Superintendent Tiffany Hardrick grew up in area and attended the schools she now oversees. She moved back to the area in 2014 and sees a different school system today.
When she attended school 20 years ago, she says the composition was roughly 50% white and 50% African American. Today, it is about 95% African American. Many of the county's white students, Hardrick says, have used the state's law allowing school choice to attend the nearby and much-smaller Palestine-Wheatley School District, also in the county, where the student body is more than 80% white.
Forrest City schools have had some notable successes in recent years. The schools received an award from the governor for investing in computer science with classes in computer coding. And after years of declining enrollment, Hardrick says the schools have turned the tide in the last few years and have started to attract more students again. A local charter school recently closed, and its students have begun to stream back into the public school system.
But challenges remain. Like many rural districts, Hardrick says hers has a hard time attracting young teachers. And ultimately, only about 20% of the graduating class will go on to four-year or community college. The cost of post-secondary education is a difficult burden for many of her students as is shaking the small-town mindset and heading off to a university.
For those who don't want to leave home – or who can't afford it – East Arkansas Community College (EACC) offers a chance to move on past a high school diploma. People across the city say the school is one of the community's gems; it offers general two-year associates degrees as well as specialized training in radiology, nursing, and commercial truck driving. The school proudly notes that 70% of its associate degree graduates have a job within one year.
Cathie Cline took the helm as president of EACC in 2017 and has been working at growing the school. This past summer EACC signed an agreement with John Brown University, a Christian school on the western side of the state, to allow EACC students to enroll in JBU classes and work toward a bachelor's degree online.
Cline served as a journalist for the local newspaper and has deep ties to the county. She, Hardrick, and Mayor Williams all say they regularly text each other to discuss issues that surface in the community, serving as a kind of unofficial coordinated leadership team for St. Francis.
One County, Different Identities
Outside of Forrest City, St. Francis County is only about 32% African American, still high compared to the United States overall and to rural America, but lower than the county in general. And some parts of the county have very different identities.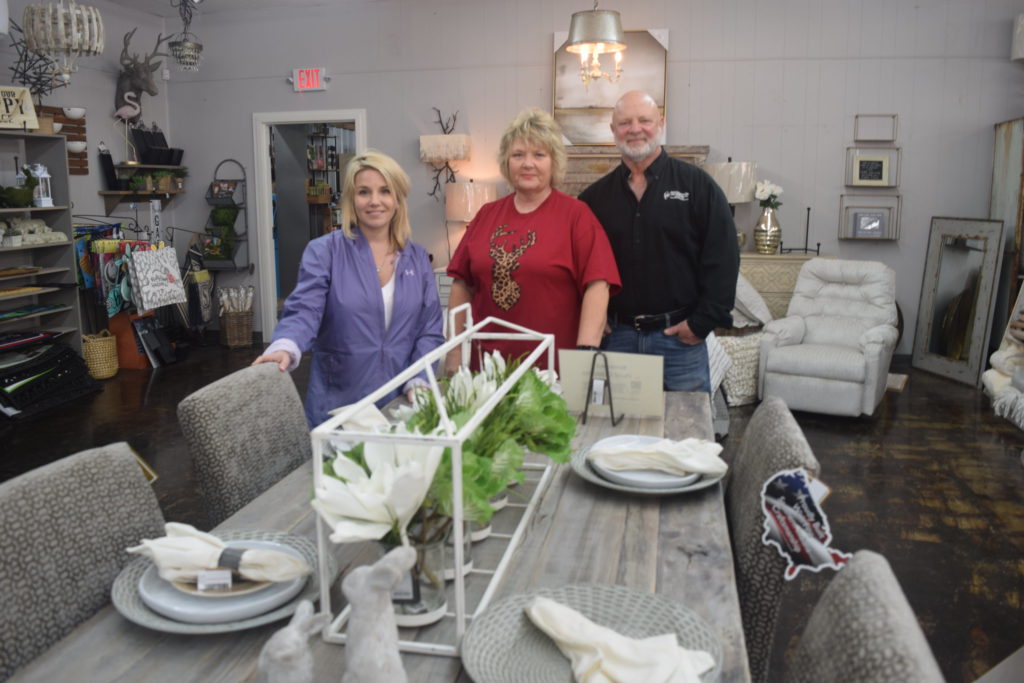 Palestine, for instance, is home to about 730 people, but it is more than 80% white and feels decidedly different from much of the county. It has a small downtown block with unique character because one family, the Hurds, bought buildings and developed them into a restaurant, furniture boutique, and clothing/sporting goods store.
The family owns the Crazy Donkey Grill, a gas station that has been turned into a moderately-priced trendy Tex-Mex establishment, and next to it, the Boondocks Down South, which features everything from fishing equipment to high-end clothing. The adjoining building holds an upscale furniture boutique that deals in handmade reclaimed tables and bedroom furniture than runs into the thousands of dollars.
The family says their businesses employ 30 people and have attracted visitors from 26 states. They plan to keep expanding the complex, with a new amphitheater and a firing range.
Could it be a larger recipe for success for the area, or at least an opportunity for something new? Forrest City business leaders have reached out to the family about expanding there, closer to the interstate and in a bigger population center. But Randy Hurd, the father of the family, says the path isn't that simple. The key to the family's success has been more organic. "You can't just make something like this happen, because you duplicate it. It has to be a labor of love. It can't be, 'Well if they can do it, we can do it.' It has to come from the heart."
For the Hurd family, that heartfelt connection is tied to Palestine.
The challenge now is creating those warmhearted feelings for the whole of St. Francis — all its pieces and people. The divides that have defined this place and other communities in the African American South are not easy to overcome — black and white, small town and farmland. But with new leadership, the community seems committed to facing these obstacles. A few years ago, people say that wasn't happening here. Now the door is open to change, new partnerships, and a desire to plan for a more cohesive future.