The Rise of Food Co-ops in Big City Communities of Color
When George Floyd was killed in Minneapolis in the spring, the coronavirus pandemic was no longer the only major issue facing the city. As protests erupted in South Minneapolis, many small businesses were damaged and destroyed. Seward Community Co-op has two storefronts owned by more than 21,000 Minneapolis households — both in neighborhoods where protests and property damage occurred.
Seward Community Co-op has a history of serving a multicultural population. Its flagship store was founded in 1972 in the Seward neighborhood, a diverse community in Southeast Minneapolis with a below-average median income and a fairly high poverty rate. The friendly, attractive neighborhood has become home for many Somali immigrants. About 55% of the community identify as White, 33% as Black. The Friendship Store opened in 2015 in the Bryant neighborhood of Minneapolis, where the median income is lower and poverty rate is higher than Seward and the demographics are more diverse: 34% White, 32% Black, and 35% Latinx.
During the protests, as businesses boarded their windows and closed their doors, the co-op also closed for three days to ensure the safety of its customers and staff, then reopened to continue serving its communities.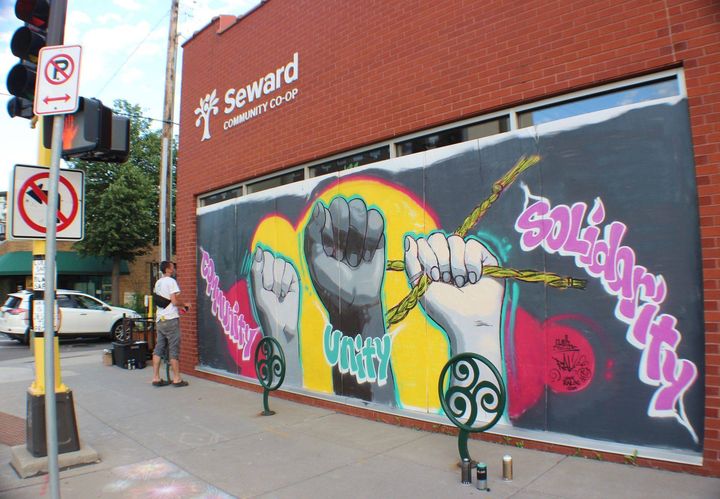 Co-op staff volunteered for night watch groups around the neighborhood, encouraged street art on the plywood window coverings, and issued public statements against systemic racism. Seward also helped organize food drives and distributed food and household necessities to people living near the riots, where most businesses were destroyed, and no grocery stores were open. With public transportation curtailed and shortages severe, co-op customers made contributions through the co-op's "round up" program at the cash register. Many food co-ops offer this donation program that allows shoppers to voluntarily round up their total purchases to the nearest dollar. This raised more than $20,000 for local food banks. Thousands of community members donated food and supplies, and helped deliver them to people in need.
Creativity and love fuel co-ops like Seward, which continue to support their communities in tangible ways during these crisis times. Persistent food insecurity has turned the spotlight on food co-ops, particularly in communities of color. Across America, nearly 400 retail food co-ops are open for business and another 100 are in development. When a business is owned by the people who use it and is closely tied to the community in which it operates, feeding people means a lot more than selling food.
Co-ops, Then and Now
Cooperatives have a long history of responding in times of need and disaster. In fact, the CARE in care packages sent during World War Two stands for Cooperative for Assistance and Relief Everywhere and originated from the Cooperative League of the USA (CLUSA). Today, the Cooperative Development Foundation sponsors a Disaster Recovery Fund, supported by cooperatives and their members. This year, the group has raised and donated $84,000 for Covid-19 relief. Almost all food co-ops have their own donation programs that support community organizations like food banks and social service agencies. With the rise of food insecurity, these contributions are helping to meet the dramatic increase in need for food and household necessities.
In addition, the exposure of racial inequity in policing has lifted collective understanding of how systemic racism continues to impact communities of color in many ways, including food access. "African Americans have a long, rich history of cooperative ownership, especially in reaction to market failures and economic racial discrimination. However, it has often been a hidden history and one obstructed by White supremacist violence," writes Jessica Gordon Nembhard in Collective Courage: A History of African American Cooperative Economic Thought and Practice. Underserved Black communities that have suffered from disinvestment and redlining face modern market failures and health effects directly attributable to racial discrimination. Once again, these communities see opportunity in cooperation.
Food Co-op Initiative (FCI), a nonprofit cooperative development center providing support and training for communities organizing new food co-ops, reports that new inquiries from underserved Black communities began rising a few years ago and climbed higher since the spring. Realizing that the grocery industry is not meeting their need for healthy food, Black communities are eyeing cooperatives as a way to ensure they can own and control a grocery store that reflects their needs and culture.
New co-ops are organizing in many big cities, including Detroit and Flint, Michigan; New York City, Los Angeles, Chicago, and Cleveland, among others. A new support network of community organizers, consultants, and Black-led coalitions like the Network for Developing Conscious Communities and the National Black Food and Justice Alliance are making cooperatives more accessible by bringing to bear their cultural perspectives and community knowledge. By collaborating with these groups, FCI and other food co-op development specialists, whose experience is primarily in White communities, are better able to meet the needs of Black communities.
The Co-op Credo in Action
All around the world, cooperatives subscribe to the same seven principles. No. 7 is "Concern for Community." New co-ops that have not yet opened their stores are already demonstrating their concern for community and gaining support for their efforts.
Imperial Beach, California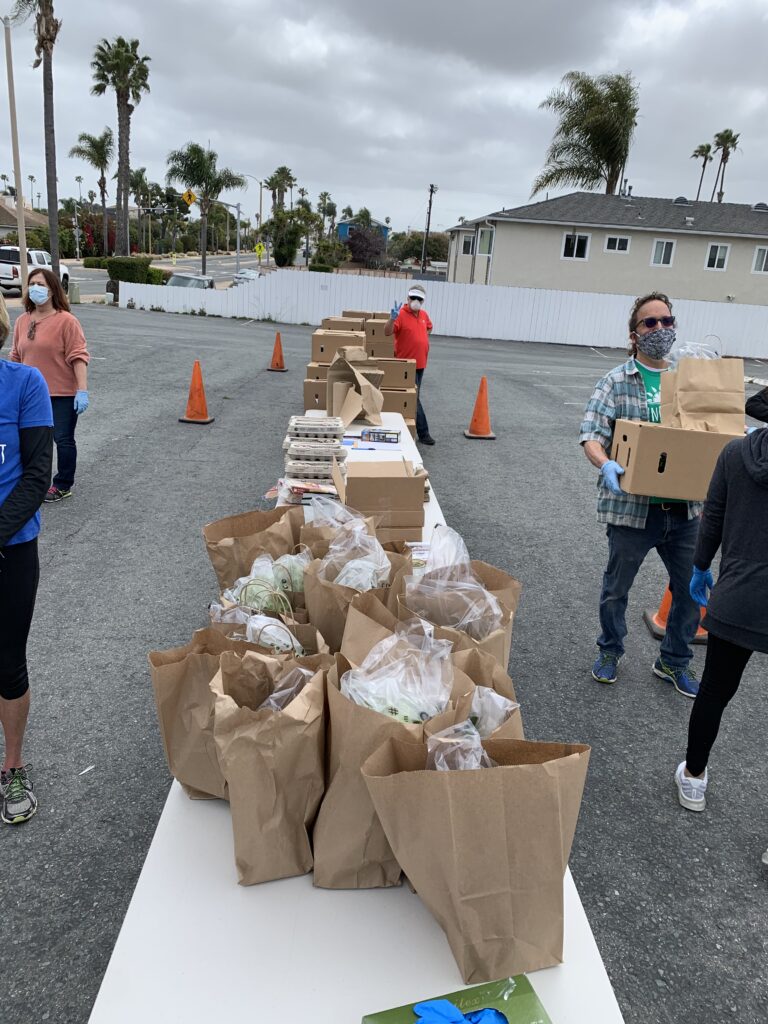 In Imperial Beach, California, (part of San Diego County, a Big City county in the American Communities Project) the Suncoast Market Co-op is moving to open a new store where neighbors are a diverse mix of White, Latinx, Asian, and Black people, many living well below the median household income of $51,838. When it became clear that community members were having trouble finding and paying for healthy food, the 550 owner-members stepped up — despite not having a staff or location.
Suncoast Market Co-op contacted a produce distributor that purchased from area farmers and offered a seasonal box program. The idea: For a modest price, consumers could order a box of fresh seasonal produce and pick it up through a contactless drive through. Soon, the co-op announced the program and solicited donations to cover the cost of boxes for families in need. Expecting 10-20 orders when they started last March, co-op staff were overwhelmed with 75 orders the first week.
The program grew until Suncoast Market was providing about 150 boxes of food each week. Eggs and honey from local farms and staple items from local businesses such as bread, meat, and dairy products could be purchased as add-ons. Each week, 10 to 15 co-op members volunteered to make this possible, having set up a drive-through, no-contact pickup site in the parking lot of a local church. When local Covid cases eased and the lockdown was relaxed, the co-op suspended the program. It stands ready to begin again if needed.
Back in April, co-op members were invited to participate in two task forces set up by Imperial Beach's mayor — one for high-risk populations and one for small business preservation. The experience "…was a real eye-opener on how much food insecurity existed in our city," according to Co-op Outreach Manager Shannon Ratliff. The positive visibility has inspired new owners to invest in the co-op and will give the co-op a head start when it is ready to open its storefront.
Cleveland, Ohio
In Cleveland, Ohio, (part of Cuyahoga County, another Big City county) the Little Africa Food Co-op formed after the police killing of an unarmed black man in the summer of 2016. When the coronavirus began ravaging Cleveland's Black population in neighborhoods where food insecurity was already a crisis, Mikki Smith, vice president of the co-op board and outreach coordinator, was not going to sit back and wait for "someone" to take care of it.
Under Smith's leadership, the co-op worked with the Feed the Soul project and other community partners to identify the community's essential needs and who was most at risk of not having what they needed during the pandemic. Staff identified youth, seniors, and the homeless as most at risk. The co-op created a strategic plan to provide emergency crisis kits, containing food, first aid supplies, activities for families during lockdown, contact lists for services, and suggestions for local sources of food.
With a solid strategy, Smith's team approached community organizations that had access to funding and resources. The co-op was adamant that partners follow its plan to ensure the effort was properly focused and geared toward success. The collaboration has been responsible for feeding 350 families since late March. After this success, Little Africa received a grant award, making it possible to assist more communities beyond Central Kinsman. Throughout this project, Little Africa has built a real community of support by listening to what people needed, responding effectively, and engaging both volunteers and community organizations to back its work. As Little Africa moves toward opening a retail grocery store, it has already made a name for itself.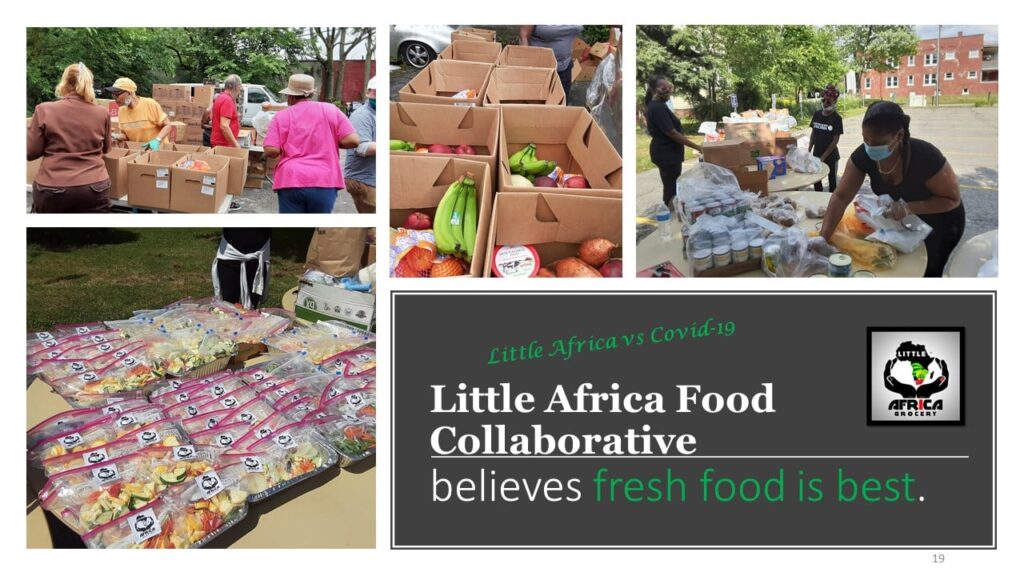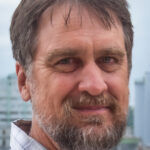 Stuart Reid is Executive Director of the Food Co-op Initiative.