How We're Building a Local and Inclusive Food System in the Columbia Gorge Region
Editor's note: The American Communities Project explored health and socioeconomic trends across our 15 community types in our first report this fall, supported by the Robert Wood Johnson Foundation. We also took deep dives into five communities of different types, including Hood River County, Oregon, a Hispanic Center in the Columbia River Gorge region. While in Hood River, we met with Sarah Sullivan, executive director of Gorge Grown Food Network, about her organization's efforts to alleviate food insecurity. In the post below, Sullivan describes in greater detail her community's work to create an equitable and sustainable food culture.
The Columbia River Gorge looks like a food-rich place. Our valleys are covered in orchards; the eastern hills are golden with wheat; the rivers are famous for salmon; and the forests are full of berries, mushrooms, and wild game.
Data confirm this lush picture. In Hood River County, one of the five counties of the Gorge region, the food environment index is 9, while U.S. top-performing counties post a score of 8.6, according to the 2018 County Health Rankings. 
So you'd think all of us would be well-fed here, but that's not true.
One in three Gorge residents worries about where their next meal will come from, while one in five actually misses meals regularly, based on a 2015 survey conducted by the Columbia Gorge Health Council and One Community Health. Meanwhile, 98% of the food eaten in the Gorge is imported, and more than 90% of the food grown in the Gorge is exported, according to USDA agriculture census data.
A Willing Coalition
When leaders in the Gorge's five-county region learned about how widespread hunger is here, we got together to do something about it.
Formed in 2016, the Food Security Coalition is a network of more than 40 organizations and agencies from all sectors working to improve food access for everyone. At the table are tribal community members, social service providers, economically disadvantaged food insecure residents, healthcare professionals, farmers, distributors, food bank mangers, staff from every hospital and health department in the Gorge, and others. This year, 30% of Coalition participants were from priority populations including Latinos, Native Americans, and seniors. In Hood River County alone, Latinos make up 31% of the population.
The Coalition begins with the understanding that people yearn to be connected to their food and to know where it comes from, not just by shopping locally, but by participating in a vibrant, equitable, and authentic food system.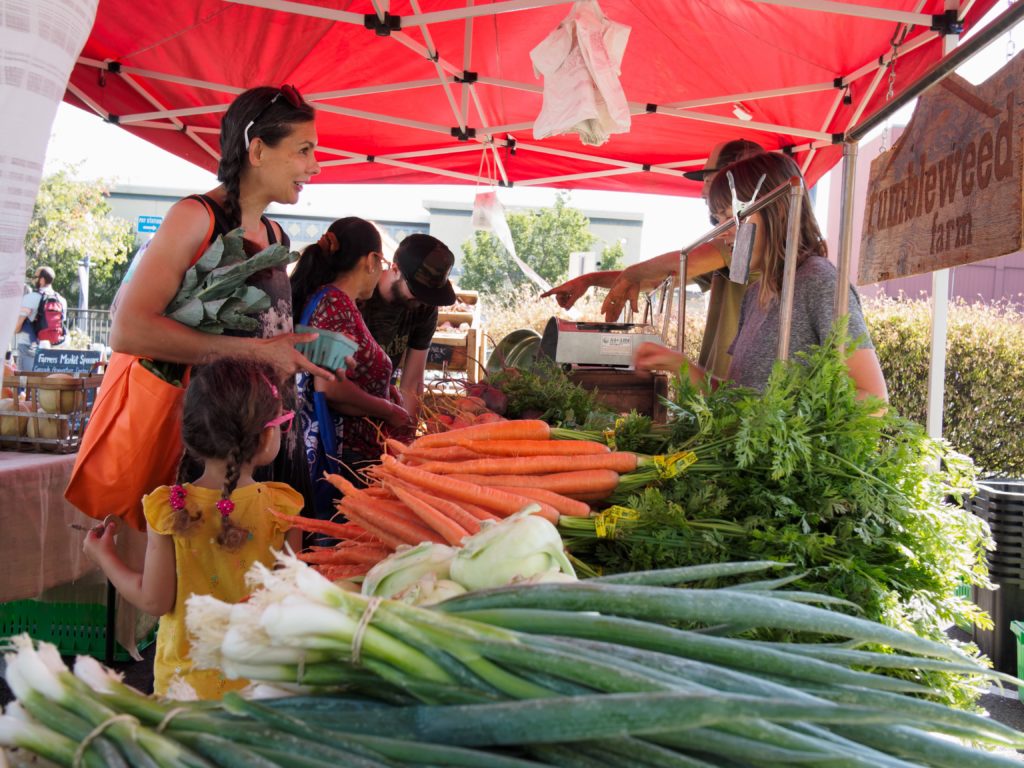 We take a holistic approach toward multifaceted, long-term goals. We know we need community meals, food processing facilities, year-round markets, and infrastructure for farmers, like hoop houses. Healthcare professionals want the ability to prescribe healthy food with healthcare funding. Farmers need training in marketing and business management. Schools need school garden coordinators. We need more cold storage and better distribution for locally grown products.
More importantly, all residents, including food producers, pickers, and servers, need to make a living wage to afford enough food, regardless of where that food is grown.
Sharing Resources

To help us achieve our goals, Coalition partners created an interactive map of food assistance resources as well as a "partners" map which helps organizations better understand each other's needs and assets.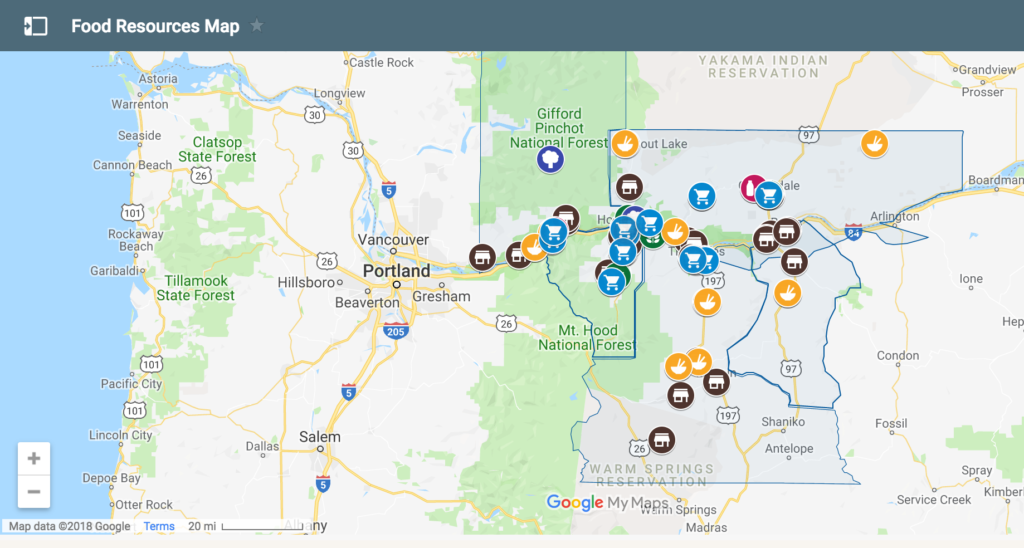 "Action Guides" for the Coalition summarize the needs and recommendations based on local data, focus groups, and surveys about food security over the past 10 years. This data helped the Coalition make the case for funding, and garner grants from healthcare providers, foundations, the Coordinated Care Organization, and partners like the Columbia Gorge Health Council.
Solutions in Action
Expanding farmland access and business development – Hood River County now has the most expensive farmland in all of Oregon. Raices Cooperative Farm, a project of The Next Door in Hood River, connects Latino community members to land and training in marketing, sales, and leadership. The project started as a one-acre plot, where about two dozen families continue growing food in individual plots. Another acre nearby was added to the project, and now some of the farmers grow food commercially on other satellite plots. Raices members Joel Pelayo and Vitalina Rodriquez sell produce through Gorge Grown Food Network's Mercado del Valle, a farmers' market designed by and for the predominantly Latino community of Odell.
As we wear a lot of hats in this rural community, Pelayo is also chair of the Community Advisory Committee of the Coordinated Care Organization, PacificSource. He serves as Latino outreach coordinator for Gorge Grown Food Network, and has been a community health worker for more than 20 years.
Empowering residents via participatory evaluation and leadership training – As a pregnant, low-income mother, Mandi Rae Pope screened positive for food insecurity during a visit to the health department, and was enrolled in Gorge Grown Food Network's veggie prescription (Rx) program, which provides $30 in vouchers a month to purchase fresh, local fruits and vegetables.
"Food is medicine," Pope says. "My heart just about exploded with gratitude when I bought my first pint of fresh local blueberries. I was able to watch my son enjoy a simple, beautiful pleasure without one worry. He said "thank you " to the guy who grew them with a blue face… A win-win… I get to let my baby eat something good for him, and I get to use this as a teaching moment about where our food comes from."
Since then, Pope volunteered to participate in the Veggie Rx PhotoVoice evaluation project. She found the process of shaping the program through her own lived experience empowering. Inspired by the community health workers facilitating the focus group's gritty conversations around hunger, she enrolled in a community health worker training and joined the Food Security Coalition. Pope recently completed a Hunger Free Leadership Institute Fellowship with Partners for a Hunger Free Oregon, where she was helping shape statewide food policy.
I believe these solutions constitute the Coalition's greatest success. Not only are we feeding more people but we are also learning from and working beside those who need access to quality food most. This solidarity is how the most successful movements catalyze lasting change.
Coalition Plans in 2019
Here's what we're working on in the coming year:
partnering with the Northwest Tribal Food Sovereignty Coalition to build solidarity with tribal community members;
linking beginning farmers seeking land with retiring farmers through a series of mixers and land succession training events;
expanding Gorge Grown Food Network's Mobile Farmers' Market stops to serve especially isolated towns far from grocery stores; and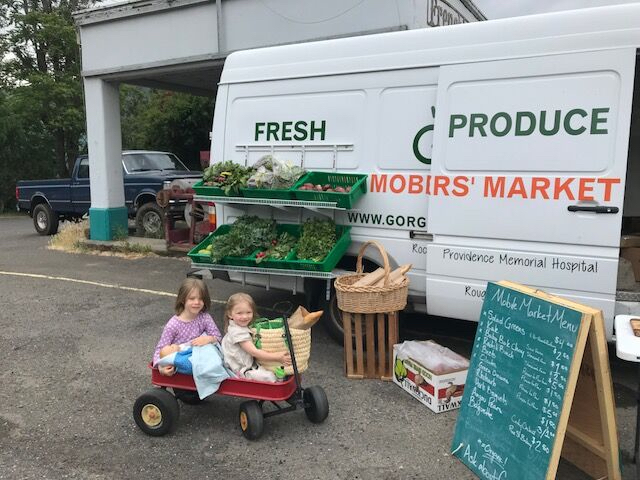 expanding the Columbia Gorge Gleaning Project, which connects volunteers with farmers to harvest produce that might otherwise go to waste, and deliver it to those who need it most. Many volunteers are low-income residents who learn leadership skills through volunteering.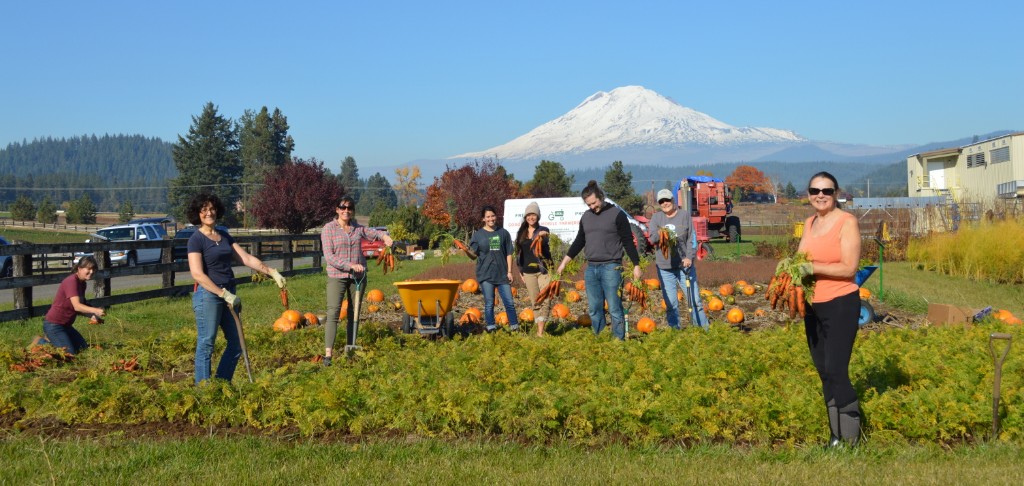 Community Leaders, See Quality Food as a Cornerstone of Health
Here are some actions your community can take:
Gather across sectors to address wicked problems, such as food insecurity.
Educate yourself and your community, especially healthcare providers, about the importance of a regional local food system.
Meet people where they are. Send ambassadors into the community to listen and learn. Ask, align programs, then ask again.
Maintain a Hopeful Vision
We've learned that concrete actions arise when we gather the right people together to collaborate. I feel hopeful when I envision a healthy, participatory, local food system in the Columbia River Gorge — and all the ways it can help residents thrive.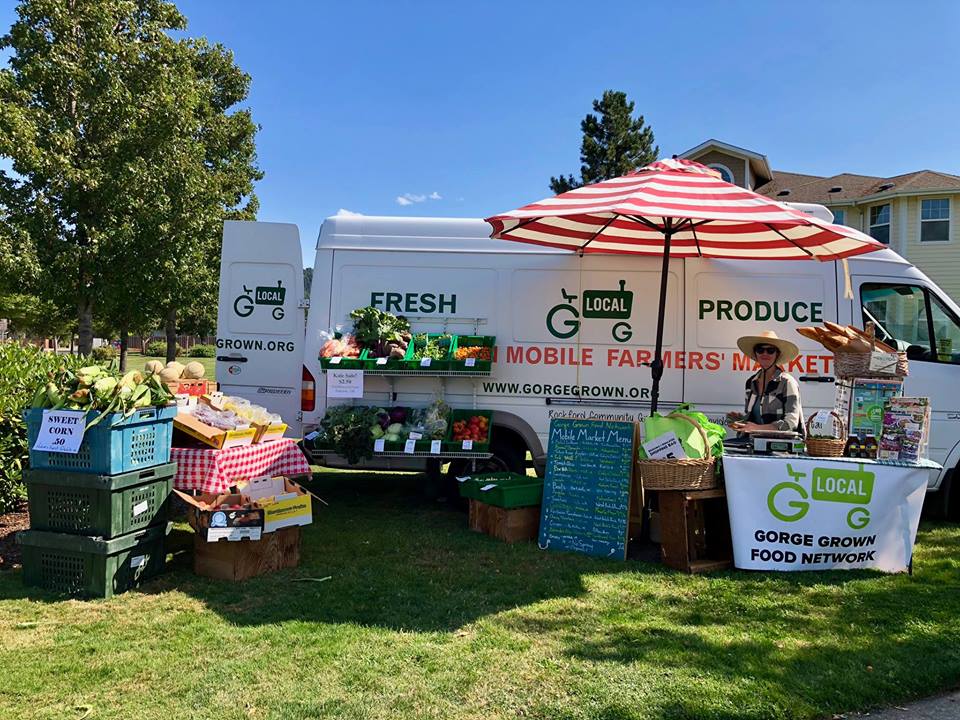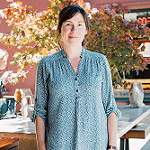 Sarah Sullivan is executive director of Gorge Grown Food Network, a nonprofit working to build an inclusive, resilient food system in the Columbia River Gorge of Oregon. Most recently, Sullivan and her staff launched one of the most robust Veggie Prescription (Rx) programs in the nation across five counties in two states with 40 healthcare providers. More info can be found at http://www.gorgegrown.com/foodsecurity/