Gun Homicides: A Growing Issue for Communities of All Sizes
Firearm-related deaths are a leading cause of premature deaths across the U.S., and the numbers are rising. Compared to other high income countries across the world, gun homicides in the U.S. are over 25 times higher, and gun suicides are over 8 times higher. While these two issues may have some different driving factors, such as historical neighborhood disinvestment, economic stressors, and traumatic events, and therefore may require different solutions, the underlying issue of gun violence in the U.S. is indeed a public health crisis.
To shed light on the toll of gun violence in cities across the country, the City Health Dashboard now features two relevant measures, firearm homicides and firearm suicides. The measures, analyzed and calculated from the National Vital Statistics System by the City Health Dashboard team, provide city leaders and policymakers with data on firearm-related homicide and suicide deaths calculated from death certificates for the first time at this scale. These measures add context, precision, and breadth to already existing city-level data pulled from FBI statistics on firearm homicides.
Here, we explore how trends in gun homicides have changed over time, and how these trends look different in cities of different sizes. While gun violence, especially gun homicide, is often thought of as a big-city problem, our analyses show that the truth is more complicated than that.
Increases in City Gun Homicides Over Time
From 2014-2020, the years of data available on the Dashboard, there was an 18% increase in firearm homicides. Digging into this trend over time a little more closely, while homicides and suicides increase at about the same rate from 2014-2017, with slightly more suicides than homicides through these years, there is a sharp increase in homicides after 2017.
We've zoomed in to two counties — Broward County, FL, and Maricopa County, AZ — to demonstrate the variation within two different counties that have a large number of cities with data available. Broward County, which falls into ACP Community Type Urban Suburbs, has 15 cities on the City Health Dashboard, including Fort Lauderdale. In 2020, 11 of those 15 cities had homicide data, and of cities with data available, firearm homicides ranged from 2.4 per 100,000 population in Plantation (population 94,000) to 11.4 per 100,000 in Fort Lauderdale (population 181,000).
Maricopa County, which is categorized as the Big Cities Community Type, is home to 13 cities on the Dashboard, including Phoenix. In 2020, 12 of the 13 Maricopa county cities had homicide data, ranging from 1.3 per 100,000 in Gilbert (population 248,000) to 6.7 per 100,000 in Avondale (86,000).
However, cities of all sizes — not just bigger cities — have had increases in firearms violence. Our smallest Dashboard cities, those with populations of less than 55,000, saw gun homicides increase by 50% (median) between 2014 and 2020 — the largest increase of Dashboard city sizes. Gun homicides are not just an issue of the largest metro areas but are indeed a growing issue for everyone who cares about the safety of their communities.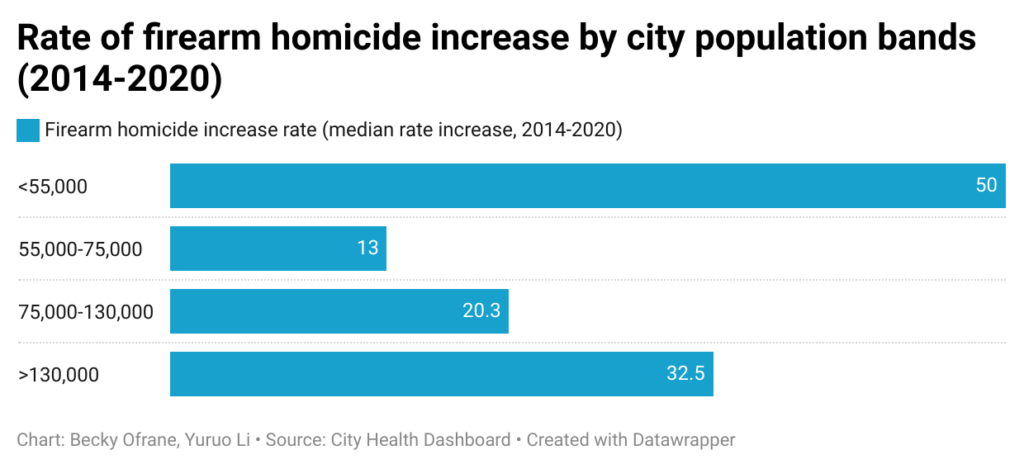 What does this mean for cities?
These data suggest that cities of all sizes can be impacted by gun violence, and leaders can take action to help prevent these tragic, but often avoidable, outcomes. Actionable policies and programs are available at the community level, but change is only possible with a solid understanding of the scope and magnitude of the problem. These new, first-of-their-kind metrics can equip cities, advocates, researchers, and everyone concerned with gun safety with the data they need to make change in their communities. To move from data to action, Everytown for Gun Safety Support Fund provides a suite of practical evidence-based strategies available to community leaders and policymakers, including:
Secure Storage. This means storing guns locked, unloaded and separate from ammunition. Eight states, Washington DC, and several cities have laws mandating secure storage of firearms. Raising awareness is critical, and the Be SMART program is one of many models that public officials can use to build awareness of the importance of secure firearm storage. Gun shops can also offer secure out-of-home storage and third-party storage options.
Crime prevention through environmental design. This includes cleaning and greening vacant lots, improving access to safe greenspace and making communities more walkable, increasing arts and cultural activities, improving the look of vacant buildings, and improving lighting in areas with higher rates of firearm violence.
Advocacy for state and federal policies that limit the ease and immediacy of acquiring firearms and prevent violence, such as:
Check out the data for your city on the City Health Dashboard, and explore our Take Action resources for more practical strategies.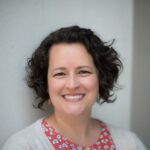 Becky Ofrane is City Health Dashboard Co-Director. She thanks Dr. Yuruo Li for providing data analysis, and Dr. Shoshanna Levine for her contributions to the analysis and project.