Career Educator in Aging Farmland Confronts Challenges of Teaching Virtually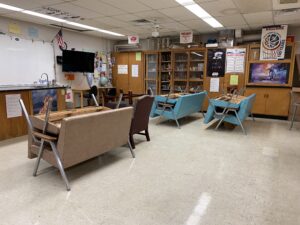 It was a Friday — the week before our spring break here in Gove County, Kansas — and I was chatting with students during last period. The coronavirus was seeping into the U.S., and our conversations that afternoon centered on "What if…?" scenarios.
When one of my kiddos asked what I thought about our school getting closed down, I said I would not be surprised if our superintendent decided to close school next week and your spring break begins early. Of course, the students were ecstatic. Two weeks for spring break! Yahoo! That's even better than a snow day.
I also told my students I was not going to post the next week's class schedules on the back boards because I felt 50/50 on being in the building next week. Unfortunately, I was correct about our school being shut down. That was March 13.
The official announcement came over the weekend. Kids were excited. Teachers were anxious, but optimistic, as we were asked to come in Monday to figure out how to resume the school year in a virtual setting.
We had one week — one week to reformat our curriculum to go online. In small, rural schools, most teachers have one to seven different classes to teach. I have four: life science for seventh-graders, biology for ninth- and tenth-graders, human anatomy & physiology, and advanced biology.
Finding My Purpose
I began teaching in Nebraska in 1995 at Omaha Benson High School, then continued at various high schools and a community college in the state, before coming to teach here in Quinter, Kansas. Along the way, I coached football and basketball. I loved it all. The direct interaction is what teaching is all about. That's not a debate. It's a fact. I'm talking about the interaction with students, teachers, custodians, administrators, counselors, secretaries, para-professionals, coaches, officials, parents, and even grandparents. I've always said, "I'd teach for free if I didn't have bills to pay."
Early in my career, I studied The Purpose Driven Life by Rick Warren. That book helped me realize my purpose. I actually think of it more as my twin passions — sharing with young people my enthusiasm for and knowledge of science and athletics. Not once has a Monday rolled around when I thought, "Ugh, I have to go to work." Not even that Monday, when faced with reformatting my science curriculum to fit the "new norm."
From Old to New Norm
The old norm was the typical school day: Monday through Friday with 57-minute periods. School began at 8:15 a.m. and ended at 3:45 p.m. Extracurricular activities began after the school day ended. That all changed due to the biology of a virus, for everyone, everywhere.
In our new norm, our district decided to require students to attend zoom meetings for each of their classes and set up a schedule Monday through Thursday. On Monday at 9 a.m., I met my first-period group of seventh-graders for 25 minutes. Then, at 9:30 a.m., I had my second-period group of Biology students for 25 minutes. On Tuesday, it was my third- and fourth-period classes. Wednesday, it was my fifth- and sixth-period classes. That left the seventh- and eighth-period groups on Thursdays. That was it.
Debates ensued. Why are we doing this? Is all of this necessary? How long will this last?
I saw the new norm as another challenge and opportunity to help students successfully navigate the next two months of the school year. I drew on my own experience with online education at the graduate level more than a decade ago.
I've learned a lot about online learning. The advantages: It allows the student some flexibility about when to complete classwork while due dates remain. The disadvantages: The direct teacher-student interaction is very limited. It is difficult to complete informal assessments of students. Teachers learn to read facial expressions, body language, tone of voice, etc. when working with their students. That information helps a teacher assess who needs additional attention. Which can come in different forms — a five-second interaction that goes something like "Nice job! You're getting it figured out," along with a pat on the back. It may go deeper like, "Show me how you got to this point…" and then guide them accordingly. It may require extra assistance before or after school. Anyone who's ever needed encouragement or more instruction knows how it feels to receive it from a teacher, co-worker, parent, or boss. Building confidence is a gift we all can give and benefit from. That's a cornerstone of higher functioning social beings.
Well-Being, Curriculum, Timeline — Online
Typically, it takes weeks or months to develop curriculum. The learning objectives are the horses that pull the wagon. What do you want the students to achieve? A state standard? Enrichment to stimulate deeper thinking about a topic?
So what horses are pulling this wagon? For me, there were three. One was maintaining my students' general well-being. The primary objective here: Greet each student and try to ensure they were doing OK in the new norm.
The second horse was the curriculum. Mainly that involved taking notes and using study guides for the remaining chapters. Whenever suitable, I assigned an article or a video to enrich the content.
The third horse was the timeline. We had already lost the week before spring break. So I had to determine how long to devote to those remaining chapters. Wrapping up a school year is always challenging.
Next School Year in Flux
Now I'm contemplating what the next school year may entail. What will it offer? More of what I just got out of? A hybrid of the old and new norms? Covid-19 and our collective responses will determine how we move forward. I hope I can welcome my students into my classroom and not chatroom this fall.
Not knowing how the next school year will unfold prompted me to rethink my plans. My family history of needing knee replacements in addition to my 30-plus years of playing, coaching, and officiating on a court convinced me that my left knee needs a serious upgrade. Some tell me to prolong surgery as long as possible. Others advise that the healing and rehab are quicker if you do it sooner. I am 51. So in the chaos of Covid, I meditated on taking a year off from teaching and getting my knee replaced.
My real motive: Skip the full-blown shift to online teaching while researchers and world leaders determine how to tame Covid-19. I do not want to teach this fall unless it is in my classroom with my students. That is my selfish side talking. The other side says something else. I've been a team player most of my life, and the more I considered taking a year off, the more wrong it seemed. Maybe if I was eligible to retire with full benefits, it would be an acceptable time to bow out. I've always planned to retire when I no longer wanted to teach. But I do. Sure, there are headaches and challenges, as with any profession. Covid-19 has been one — for everyone.
So I've decided I'll return to 600 Long Street in August and begin my 27th year of educating America's youth. The format is TBD. Thanks Covid.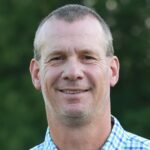 After nearly three decades of teaching and coaching, Steve Nicholson is still going strong as a junior-senior high school science teacher in Gove County, Kansas. When he is not geeking out with his students, he is a devoted husband, father, son, and sibling. Steve loves outdoor activities and is an avid brewer.