Bringing Broadband to Working Class Country Arkansas, Finally
From children doing homework to small business owners managing their finances, high-speed internet is an integral part of daily life in America. Yet pockets of rural America have been left behind the contemporary curve. As of 2016, just 71% of households in Arkansas held a broadband internet subscription, making it the 49th least-connected state in the country, according to the American Community Survey.
Much of the state's upper tier is part of Working Class Country — older, blue-collar, rural counties concentrated in Appalachia, the Ozarks, and the upper Midwest, where the median household income hovers around $44,000.
In the median Working Class Country county, 74% hold a fixed broadband internet connection.
North Arkansas Electric Cooperative is on a warp-speed mission to tilt that percentage skyward, bringing broadband internet service to its 36,000 member accounts in Fulton, Baxter, Izard, Sharp, and parts of Marion, Stone, and Lawrence counties, all situated in the foothills of the Ozarks. The electric cooperative, based in Fulton County and employing 125 people, has transformed itself in the past few years to realize this goal. I spoke to CEO Mel Coleman about the initiative's progress and expectations for his community. Our edited dialogue follows. (Listen to our 22-minute interview below.)
Ari Pinkus:  Where are you in the process of bringing broadband to North Arkansas?
Mel Coleman:  We are at the end of the first full-year rollout. We actually call it Phase 2 because we had a pilot project that went about two and a half years. We wanted the pilot project to make sure it was going to work, and I think all of us knew that it would work.
It's a tremendous investment, $130 million for basically a small utility here in North Arkansas, and probably increased our debt by 75%.
So we had a pilot project. We saw the numbers. We liked the numbers. We applied those to the full rollout to our 36,000 member accounts. And the numbers worked so well, we're closing out the first year, and we're about to head into year two.
So far so good; we're excited about the take-rate. We're excited about the improvement to the quality of life, to the members that we've served thus far.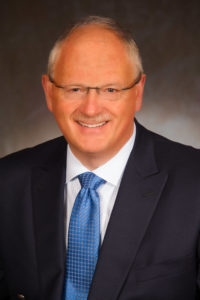 Pinkus:  Can you talk about the significance of this project?
Coleman:  I am a tremendous advocate for rural America. As President of the National Rural Electric Cooperative Association for a couple years, when I would talk about rural broadband, I would make the comparison of 80 years ago when rural America didn't have power.
And co-ops were established to bring power to rural America; we did. We improved the quality of life in rural America when we did that. And I see the same thing today as far as what we can do for rural America, what I can do for our 36,000 member accounts, that we can give them the same access to gigabit speeds as folks in the cities have had for a long time now.
Pinkus:  Now what's the next phase of work for you and your team?
Coleman:  As we're looking at 2020, what we did in 2019 is complete about 700 miles of a 5,000-mile fiber rollout. It's not as much as we wanted but the machine was cranking up. Our goal for next year is to connect somewhere around 1,200 to 1,400 folks.
Pinkus:  Could you talk about some of the lessons you learned in the pilot project and as the year has gone by?
Coleman:  When we started ramping up and bringing people onboard, the biggest thing we learned is how to set up a communications company.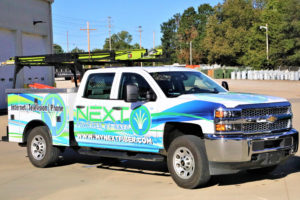 What ours is called is NEXT, Powered by North Arkansas Electric Cooperative and what we do is we bring one gigabit service to every member of our service territory, along with some of those who still want phone service, we offer that, and we also offer a television package as well. I mean you've got all of it — marketing, pricing, the actual construction of the system — and when you look at, say, construction, there are numerous ways to construct the system. (See our profile of Fulton County for pricing specifics.)
We have a lot of obstacles with our terrain. We're in a very hilly area of North Arkansas, so we have obstacles there. But that first two and a half years in the pilot project was really when we went through the learning curve and tried to get that done before we made the decision to move forward.
Pinkus:  Now for this $130 million project you've received nearly $23 million from the FCC. Are there innovative ways you're raising the rest of the funds for the project?
Coleman:  Well, we are RUS [USDA's Rural Utilities Service] borrowers and coming into the project, we had ample cash on hand to get through year one. So you know we're very fortunate that our financials are good. And by the way, this is all arms-length; this is a wholly-owned subsidiary of North Arkansas Electric that must stand on its own.
But North Arkansas Electric actually owns the backbone fiber, and that's a large part of the expense because there's other things that we will do with that fiber once we connect all of our homes, all of our substations, and all of our offices. This means a connected communications infrastructure on our breakers, regulators, and other downline devices will reduce outages and outage response times and assist in shaving our peak, which will reduce wholesale power costs and ultimately save members money.
But as far as the financing, the co-op came into it with a good supply of cash on hand, enough to get us through the first year. We have various options for financing. RUS is our financing option and then we have a couple cooperative banks that are in the field as well.
So we really don't have to worry about raising money. But just like any banker, anybody that's going to loan money, they wanted to see performance and again, going back to the pilot project, one of the reasons we did that was to prove to our lenders that (a) we could operate in this business climate and (b) it had a very good chance of success. And both of those were true.
Pinkus:  What's on your wish list to complete the project?
Coleman:  I've got two VPs … and I think if you set the three of us down and talked to us, our wish list is that we had more contractors available.
Right now it is a contractors' market. There's so many folks that get into the fiber business, so many co-ops, contractors are limited, and prices are high as you can expect.
We have calls every day, every hour, every 10 minutes. I can't go out to a dinner that somebody is not asking me, when are you coming to 2350 County Road 52? So the sooner that we could roll this out the better for all of us and all of us would love to do that. I mean that would be No. 1 on our wish list to cut this from a five-year rollout to a three.
Pinkus:  In what ways does this project stand out from other broadband implementations?
Coleman:  Well, I think the fact that a rural electric co-op is getting into the business instead of a communications company that's already been in the business is the biggest thing. I think what makes our project stand out is that there is no profit motive. If we make money when this is all said and done, which we intend to do, that will go right back to the members of the cooperative. And there you have the business model of a member-owned electric cooperative.
Pinkus:  Are there particular cooperatives that you're working with on this project?
Coleman:  Yes, we've got a consortium in Arkansas, well multiple actually in the state. We've got the six of us that are actively working together, sharing best practices; we've purchased the TV product from one of the Arkansas co-ops, who actually invested the money for the video head, which you've got to have to get all the channels. So we contract with them. We have fiber connections going through Missouri to get to St. Louis for some of our internet backbone that we contract with a co-op in Missouri that has fiber, that is transmission fiber, transmission-sized fiber.
A Missouri co-op is the first co-op we met with four or five years ago when we thought about this. They had been in the business for a couple years. In fact, one of their principals has now formed his own consulting company, and we deal with that consultant, as do many co-ops across the country. So there's a lot of cooperation between the six co-ops in Arkansas and Missouri co-ops, and it really helps because it's a big ocean out there.
Pinkus:  What do you hope this project will achieve for your community?
Coleman:  Well, all things fiber and the internet can bring. I'll never forget the first time I heard about the internet. I want to say it was in the mid-'80s. I had no clue what it was. You know we operated on a mainframe here at the co-op. And people started talking about the internet, and then we went through that period where we had the dot-com bust. So in the beginning days of the internet, I don't know if anybody fully understood what it was going to mean to the world, basically.
I mean everything we do, from the ATM card to the gas pump to the electric bill to television, everything is now connected to the internet. I've got so many devices in my home now that are connected to the internet, and who would have thought that 25 years ago?
So to me, the internet is a necessity. To some people it's gaming. I had a fellow tell me last night he can't wait to get 1-gig service because he's in this big gaming forum or whatever. Well, that doesn't mean a lot to me because I'm not a gamer.
Education, healthcare, you name it. We've got a member customer on the White River and they have a restaurant. And they're miles from anywhere. They've got a couple fellows that moved in to work for them, actually relatives, who are IT specialists. They will get 1-gigabit internet service within the next 60 to 90 days. Those two IT specialists, who wanted to have a part in running that restaurant, live on the banks of the White River, the most beautiful place in the world. Some of the largest corporations in California, Silicon Valley are some of their IT clients. They will be able to do their work where they want to live and still talk to their clients and do their clients' work in California.
To me that is one of the best success stories I've heard about what our gigabit service is going to do for them. They can have the quality of life that they want. They can live where they want to live. They can wake up every morning and see that absolutely beautiful White River and go to work for some large multinational corporation based in California. That's why we're in the business.
Pinkus: What feedback have you received so far?
Coleman: During the pilot, a small business owner cried when she learned NEXT was going to cost her about a third less than her current provider and offer a more reliable, faster service.
Our first connected subscriber, Tiffany Flynn, said in 2017, "The biggest selling point is its reliability. There is no comparison to our previous provider. Our service wasn't even worth trying some days, but it was the best we could get."