A Latinx Locale's Strides from Food Insecurity to Bounty
Editor's note: The American Communities Project explored health and socioeconomic trends across our 15 community types in our first report in the fall of 2018, supported by the Robert Wood Johnson Foundation. We also took deep dives into five communities of different types, including Hood River County, Oregon, a Hispanic Center in the Columbia River Gorge region. While in Hood River, we met with Sarah Sullivan, executive director of Gorge Grown Food Network, about her organization's efforts to alleviate food insecurity. In the post below, Sullivan shares an update on her community's work to create a sustainable food culture.
Agriculture has been an economic driver in the Columbia River Gorge since 1876, when the first commercial orchard was planted. Today, this region is one of the world's top producers of apples, pears, and cherries. Most orchardists sell to large distribution companies that market the fruit worldwide, then pay the growers a share of the profits.
Over the last few years, unstable international relations and tariffs have threatened the once-thriving fruit industry of the Gorge. Currently, 25% of the apples grown in the U.S. are exported. In 2018, three of the top U.S. international markets — Mexico, India, and China — imposed tariffs on fruit in retaliation to President Trump's tariffs on imported steel and aluminum. Since then, exports across the board fell 27% from the previous year. Even when a country like Mexico drops the tariffs, it takes time to rebuild those markets.
Tariffs' Effects in Columbia Gorge Region
Apple growers in Hood River planted varieties specifically for international markets, like red delicious apples for consumers in India. Pre-tariffs, an orchardist could expect $250-$300 per bin of apple from India. After the tariffs, the same bin — about 1,000 pounds of fruit — garnered just $21 a bin.
Consider one farming family's story. After leasing land for five years, fifth-generation farmer Lisa Perry and her husband Ricardo Galvez, a second-generation farmer, recently purchased 12 acres of Galvez's grandfather's land at the base of Mt. Hood near Parkdale, Oregon. For Perry and Galvez, it currently costs about $260 to cover the basic costs of harvesting one bin of pears. The distributor they sell the fruit to paid them just $40 a bin this year, about 4 cents per pound. Half of that $40 went to the distribution company just to store the bin of fruit until it sold.
Before Perry pays herself, she needs to pay the mortgage, the bookkeeper, and the farmworker who picked the fruit. Then there are the costs incurred growing the fruit and maintaining the orchard like irrigation, pruning, frost protection, fuel, pest management, and repairs.
So how do farmers in the Gorge manage? They forgo repairing equipment. They lay off farmworkers or cut back hours. They cannot buy and plant new trees or keep up with technological advancements to increase production. After generations of success, many orchard owners have claimed bankruptcy through the new Family Farmer Relief Act, which doubled the amount of debt a farmer can have and still qualify for Chapter 12.
These unsettling developments demonstrate what we know at Gorge Grown Food Network: Individual farmers need to be nimble as markets shift. On a collective level, it is possible to create and sustain a vibrant local food system when residents are given the tools and time to carry out the best, most empowering solutions for their community's particular circumstances.
Ongoing Community Engagement
An estimated 40% of Columbia Gorge residents are Latinx. Many Latinx residents in the town of Odell in Hood River County (pop. 23,377) work in the agricultural sector for low wages as farmworkers or fruit packers. A Gorge-region survey found that 53% of farmworkers are food insecure. At Odell Elementary School, more than 83% of students live below the poverty line and rely on free or reduced-price school lunches.
The Mercado del Valle was designed by and for the Latinx community in 2013. It is more than a farmers' market — imagine the mariachi band, children dancing traditional Baile Folklórico, hand-made tamales, elote, (corn on the cob, Mexican style), a bike-powered smoothie maker, and bins of colorful peppers and tomatillos.
This year, the Food Security Coalition, a network of more than 40 organizations and agencies, partnered with Hood River County Library District to operate the Mercado del Valle. The Coalition contracted with Bilingual Outreach Specialist Yelitza Boots to run the Mercado information booth, process transactions, promote the market, schedule events, and recruit musicians. One of Boots' favorite parts of the job is passing out "power of produce" (POP) tokens: Anyone under the age of 13 receives a $2 token to buy fresh fruits or vegetables, plus a stamp in their POP Club passport book. This gets young people excited about trying new things like radish and kale. Providence Memorial Hospital in Hood River provides funding for POP.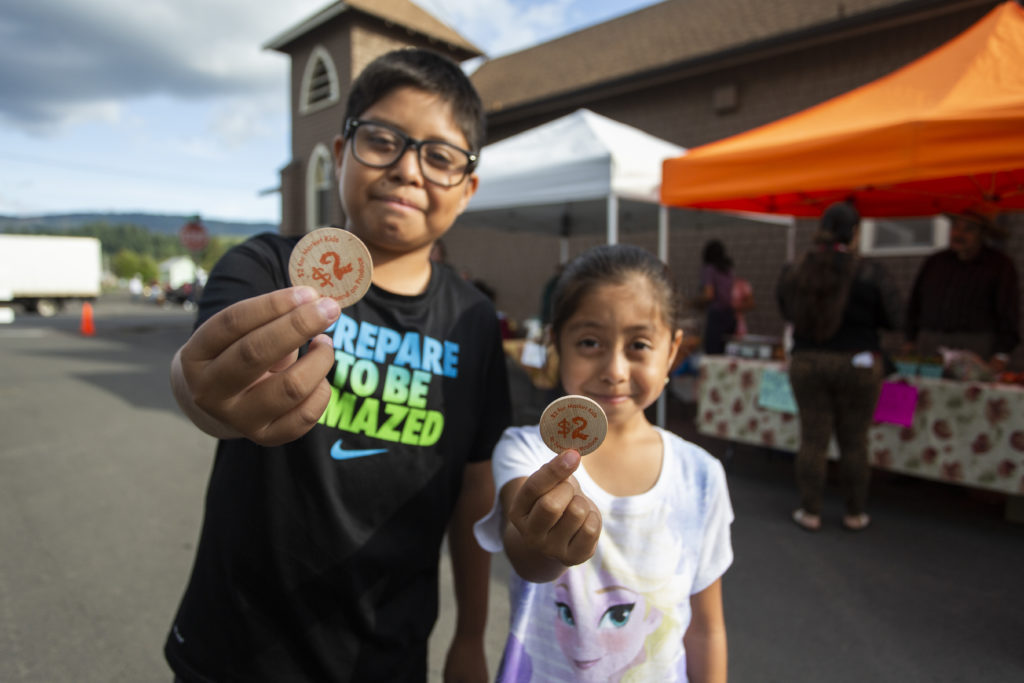 Mercado shoppers can use various forms of currency to access the produce they might not be able to afford otherwise. Gorge Grown Food Network's Veggie Rx program enables health care providers to "prescribe" vouchers to food insecure patients for fresh veggies and fruit. The SNAP Match program provides an extra $5 to shoppers using EBT (formerly known as food stamps). Women who are pregnant or have young children can use their WIC vouchers to purchase food, too.
"I believe Mercado benefits the community in all ways. People come to support each other. It brings people of all ages together. We get to know our neighbors, our farmers and our community organizations. There is a sense of joy through music, art, and laughter," says Boots.
Boots and her colleagues also staff a Pop-Up Library at Mercado del Valle, where they encourage literacy and a love of reading. In a town with no public library and limited resources, the Pop-Up Library provides access to learning — a force for personal development, economic advancement, and social transformation.
In 2018, the Coalition hired community health worker and organizer Joel Pelayo to help engage the Latinx community. Pelayo is co-founder of Raíces Cooperative Farm, a program that provides organic gardening education and small business development services to the community's Spanish-speakers. In addition to growing and selling produce like tomatoes, chiles, garlic, and blueberries, he also mans the Mesa Comunitaria (Community Table) where gardeners can drop off their produce to be sold at Mercado.
Gorge Grown helps to fill in any gaps in seasonal products at Mercado with the Mobile Farmers Market, a sprinter van that delivers fresh produce from 27 farmers to some of the most isolated parts of the Gorge.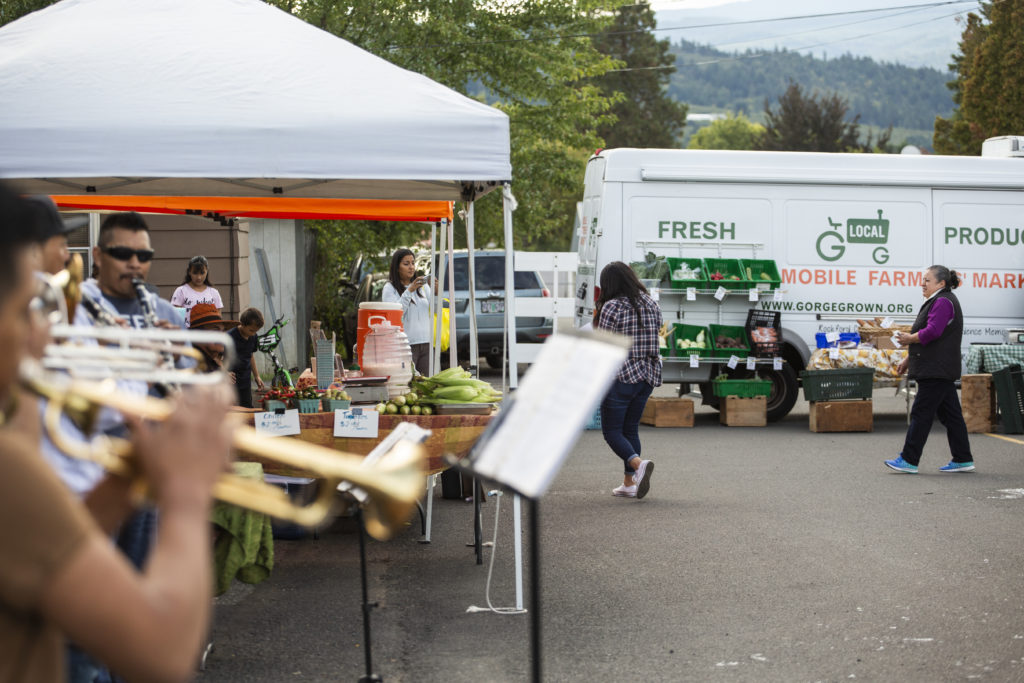 Listening sessions and surveys identified transportation to farmers' markets and local farm stands as a top barrier for low-income residents accessing local food. Coalition staff and member organizations worked with Columbia Area Transit and the Mid-Columbia Economic Development District to set up new public transportation routes to farmers' markets in The Dalles and Hood River. These agencies will raise the funds to expand transportation; the Coalition will provide letters of support, continued input on improving transportation from low-income residents reliant on it, and promotion through our 40-plus member agencies.
What's next? Our dream is to find a permanent, covered location to hold the Mercado year-round. We picture a makerspace where small businesses can get a solid start and use shared kitchen space. We envision food trucks showcasing Mexican cuisine with traditional dancing and crafts, and ultimately, a safe, celebratory space where people can connect and really get to know each other.
Odell residents have also identified three related projects to strengthen Odell's food system: a community garden, a shared food storage facility, and a community crop swap when gardens are overflowing.
Creating a Ripple Effect
To sustain Gorge Grown's Mobile Farmers Market, we worked closely with the Small Business Development Center to craft a business plan. We plan to sustain Mobile Market operations by 2021 through sales and business sponsorships. This year, several local restaurants and wineries are purchasing any produce not sold via Mobile Markets to eliminate waste and financial loss. We are piloting distribution to a few local groceries, and by building a diversity of sales channels, we envision having less need for outside funding.
On a broader scale, we have greatly increased awareness of food security as a social determinant of health and partnered with area health care organizations to positive ends. Food access is now a top priority of the Columbia Gorge's Community Health Improvement Plan. Our relationships with health care providers, including the Columbia Gorge Health Council and the Coordinated Care Organization Pacific Source, have helped us obtain multiyear grants from multiple providers: One Community Health, Providence Hospital, Pacific Source, and others. Additionally, several of our health care partners, such as Greater Oregon Behavioral Health Inc. and One Community Health, are adopting and expanding their own food access programs.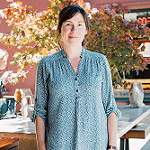 Sarah Sullivan is executive director of Gorge Grown Food Network, a nonprofit working to build an inclusive, resilient food system in the Columbia River Gorge of Oregon. Most recently, Sullivan and her staff launched one of the most robust Veggie Prescription (Rx) programs in the nation across five counties in two states with 40 health care providers. More info can be found at http://www.gorgegrown.com/foodsecurity/