Two Reporters Chronicling the Pandemic in a Colorado Exurb
Editor's note: Two years ago, the American Communities Project visited Douglas County, Colorado, as part of our report on Health and Place in America. In this two-part article, Colorado Community Media reporter Elliott Wenzler describes what's been happening in Douglas and the Denver region since March, then fellow reporter Jessica Gibbs opens up about how she, Wenzler, and other colleagues have been coping through Covid-19.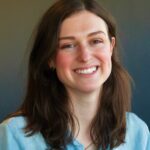 As shops shuttered, bars put up their stools, and traffic screeched to a halt throughout the country as a result of the Covid-19 pandemic, the same happened in the suburban communities of Denver.
As Colorado Community Media reported on what we saw inside the Denver metro area during the height of the virus, we noticed some national trends playing out and some unique, local occurrences. (Our eight-year-old company owns 18 weekly and two monthly newspapers, and has a circulation of 132,000.)
In Douglas County, a community with both rural and suburban areas, residents largely followed the stay-at-home order handed down by the governor March 26. Collisions and overall traffic went down as a result and ultimately, Covid-19 cases remained low.
In the 350,000-person county, about 830 cases and 47 deaths had been recorded as of June 10. In surrounding counties, cases soared well into the thousands.
A few days before Governor Jared Polis rolled out the state order, Tri-County Health Department, an agency serving Douglas, Adams, and Arapahoe counties, announced a local stay-at-home public health order.
Soon after, a group of politicians serving Douglas County publicly asked the county government to sever their relationship with the health department, calling the move a "heavy-handed application of governmental power."
Months later, politicians in the community are still discussing this as a potential move. Two candidates for the position of county commissioner have promised to create a new health department if elected this November.
Politics also flared in the community when a state legislator representing Douglas County accused the Colorado Department of Public Health and Environment (CDPHE) of illegally falsifying death certificates in order to exaggerate the effects of the virus. He requested that the district attorney look into it and after a monthlong investigation, it was announced that no evidence was found to support the allegation.
Still, the community found ways to come together through drive-by graduation celebrations, birthday parties, and memorials.
One solemn event for the community, the memorial of the one-year anniversary of the STEM School Highlands Ranch shooting on May 7, 2019, was snuffed out by the virus.
Students, families, and community members did what they could to commemorate the tragedy, which left one dead and eight more injured, but the day was ultimately very different than what organizers had hoped for.
A few days after the anniversary of the shooting, Douglas County made national news again when one of our reporters, Nick Puckett, recorded video of a restaurant in Castle Rock on Mother's Day.
In an apparent protest against shutdown orders, the restaurant was allowing customers to sit down at tables inside the building. Droves of people showed up and packed the restaurant with almost no one wearing masks. The video went viral and was used by The Wall Street Journal, CBS, CNN, The Washington Post, the AP, and many others.
After the media attention, many Douglas County residents spoke out against the restaurant. The day after the video went viral, however, more people showed up to support the restaurant and sit inside. That same week, the business hosted a grill-out event on their outside patio for supporters. Many people, including Colorado's House Minority Leader Patrick Neville, R-Castle Rock, stopped by and taped cash to the business's window.
The business's license was later revoked for about a month as a result of defying the state's public health order.
Once stores and businesses were able to begin a phased reopening on April 27, employers throughout our suburban communities reported difficulties in bringing workers back. Our reporting found that in many cases, those refusing the call to work were earning more on unemployment than they would on the job.
Our reporter Ellis Arnold wrote: "During the fallout from the Great Recession, the week with the highest number of claims for unemployment assistance filed in Colorado was the week ending Jan. 9, 2010, with 7,749 claims. This year, the week ending March 21 — when Colorado closed dine-in restaurant and bar service, and hair and nail salons, spas, and tattoo and massage parlors — shattered that record with 19,745 new unemployment claims filed."
Other than a sharp increase in unemployment, another national trend that played out along the front range was the disproportionate effect of the virus among Black, Hispanic, and Pacific Islander communities. The largest disparity was for African Americans, who are 3.9% of the state population but made up 7% of the cases, as of an April 13 news release from CDPHE.
As things have started to reopen in the country and in the Denver suburbs, we have heard our communities saying one main thing: They are ready for some normal again.
One local restaurant manager pointed out just how enthusiastic people are about being able to eat out again. When they opened at the end of May, "people were excited to be back at restaurants," the manager said. "On the patio, we got rained on and people didn't even care."
From the Makeshift Workspace of Jessica Gibbs
I sat on my couch the afternoon of March 19 sporting wrinkled sweatpants with a messy bun falling off my head. My eyes felt tired, but I kept them focused on my computer screen, typing the final lines of my second and last writeup that day.
As I hit 'send,' my husband snapped a photo, capturing a moment I'll never forget. Sprawled in my lap was our exhausted son, sweaty and drooling on my shoulder.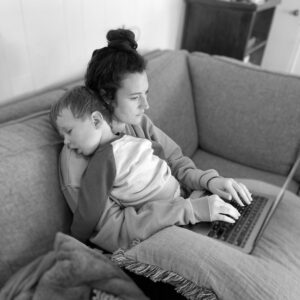 Our two-year-old woke up the night before, tugging his ear and muttering, "ear hurt." I squeezed in a doctor's appointment that afternoon, where we confirmed the diagnosis to be a double ear infection. Minutes after getting him home, he passed out in my arms.
To my son, the worst problem in life that day was that ear infection. He didn't know a pandemic raged across the world around him.
Newsrooms were busier than ever, but I wanted him to know he was OK. So, I held him, letting him sleep as long as he needed while I got back to work.
March 19 was not the only time I reported Covid-19 news with a toddler in my lap. The most difficult time came while I interviewed a college student who lost her father to complications from Covid only hours earlier.
Covid had shuttered schools and daycares. Our newsroom was working remotely. I, like many journalists, had two jobs to do as I became full-time mom and full-time reporter.
For reasons he couldn't express, my son needed his mom right then. He crawled in my lap while I listened to a grieving daughter, taking down her every word. She told her story, patiently forgiving the commotion from my toddler, as my personal and professional worlds collided in a way I'd never experienced as a professional journalist.
'Socially distanced' newsgathering
In the early days of Covid, there was not time to step away from work. For journalists, professional pressures mounted as Covid unfurled public health and economic crises across the nation.
We tried our best to keep our communities informed, lying awake at night wondering how we could tell all the stories needing to be told.
Like March, the month of April was far from normal, as our reporter Christina Steadman wrote in her column for Colorado Community Media's (CCM) two monthly newspapers, "Life on Capitol Hill" and the "Washington Park Profile." (Steadman started as a cops and courts reporter at the Canon City Daily Record in Colorado before joining CCM in 2014.)
Everyone had to do things differently, she said. Journalists were no exception. For nearly three months CCM worked remotely. The office officially reopened June 15.
"I never would have imagined that someday I would be conducting 'socially distanced' newsgathering," Steadman said. "My guess is nearly everyone has experienced at least one dark moment at some point during this Covid-19 pandemic."
Because of that, she shared uplifting moments she experienced.
There was the customer who brought grocery store gift cards to employees at the Dollar Tree where her boyfriend stocks shelves. Or the 8 p.m. howl that began in Denver before spreading to the suburbs, a nightly ritual thanking health-care workers battling Covid on the front lines.
There were also the simple comforts, like her two furballs — a pair of Siamese-mix rescue cats — that pawed at the door of her "home office" (which like for many of us was a room at her home converted into a workspace) while she worked. Don't they know I'm busy typing, Steadman would think to herself.
"Of course, they're irreplaceable in the evening hours when I'm not working. Their purrs are an instant relaxant, and remind me without words, 'everything is going to be OK,'" Steadman wrote in her column.
Elliott Wenzler, who covers Douglas County and Highlands Ranch for CCM, said it's times like these that local newsrooms have an opportunity to make an impact in their community.
Some of Wenzler's sources told her they did not see the effects of the virus in their lives. Others questioned whether there were real cases at all, she said.
Reporters at CCM took "every chance we could to show the reality of this situation in our communities by telling the stories of people who survived the virus," Wenzler said.
Wenzler spoke with several survivors about their battle with the novel virus. Barry Kittay, a Highlands Ranch resident, recounted what he could for Wenzler from the 11 days he spent on a ventilator during his 20-day hospitalization in March and April.
With waning lung capacity, his medical team at one point turned him on his stomach to improve oxygen intake. He could not recall anything from that point of his stay, aside from strange, drug-induced dreams, he said. "I kept wondering why I couldn't get out of this nightmare," he said. "I was so hot and so thirsty."
'Every minute of every day'
I believe times like these remind journalists why they felt called to this profession.
People were scared. They were confused. They needed reliable information. They needed their stories told. That's all still true several months into the crisis.
As Wenzler noted, though, the work is taxing. "The overwhelming amount of news that we needed to get out during the first few weeks was exhausting. It felt like a breaking news event similar to a homicide or shooting, but every minute of every day. That's how important our job felt," she said.
Wenzler recalled one CCM editor telling reporters this could be the most important story of their careers. Wenzler took that seriously. But that also made it hard to put down the laptop or focus on anything other than covering Covid. CCM reporters tried to file one to two stories a day.
The pandemic brought waves of stress and anxiety for her. One of Wenzler's biggest fears came while watching layoffs devastate newsrooms across the country. The economic fallout of Covid hit local news organizations hard. She wondered if unemployment might become her fate too.
To date, CCM has not laid off any reporters amid the pandemic. But in late June, the company announced each editor and reporter would take a one-week furlough between early July and late September.
Many of us felt those same anxieties. Trying to do it all felt futile, but at the same time, not trying felt like a disservice to readers. Journalists are, after all, servants of their communities.
Hour by hour
On March 16, headlines started rolling in about restaurant closures, first in Denver, then statewide. My heart sank a little.
My husband, an owner and operator of a small, locally-owned American comfort food eatery in Denver, came home mid-afternoon after a morning of meetings. He was tired. His day was not over, but he offered to watch our son for a while so I could focus solely on work.
He began to draft an email to his employees, our son playing in the backyard when he penned the grim update. He couldn't keep them all. Most, in fact, should start researching unemployment, he wrote. He vowed to provide them whatever resources he could. Then, he stopped writing.
In a moment of candidness that surprised even me, he blurted out, "I just don't have all the answers."
He stared blankly ahead while I thought of what to say. "It's OK. You don't have to have all the answers right now," I told him.
We were all figuring out life amid Covid, hour by hour.
We still are. I hope people know journalists didn't want this anymore than they did. We hurt too. We worry too. We hope too. We want our communities to thrive too. We're in this with you too. And we'll keep reporting the news, whatever comes.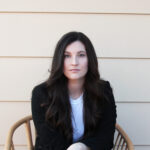 Jessica Gibbs has been a reporter with Colorado Community Media since 2016. She covers education, local government, and breaking news.