Texans Fighting the Proliferation of E-Cigarettes Among Youth
 "Only morality in our actions can give beauty and dignity to life." —Albert Einstein
The American Heart Association reports that one in five high school students uses vapor products. Roughly two-thirds of these teens believe the products represent a safe and enjoyable recreation activity with a colorful burst of candy-like flavoring. The reality: Vapor products contain high concentrations of addictive nicotine oftentimes higher than traditional cigarettes.
Lately, elected leaders have been recognizing that electronic cigarettes are a growing public health problem among youth. In late June, San Francisco Mayor London Breed signed an ordinance banning the sale and distribution of e-cigarettes in the city — the first law of its kind in the U.S.
Here in Texas, the state legislature briefly addressed vapor products at the end of its 2018-2019 session. In June, Gov. Greg Abbott (R) signed into law "Texas Tobacco 21," which prohibits the sale of tobacco products, e-cigarettes, and vapor devices to people under age 21 (except for military personnel). The law takes effect September 1.
As President/CEO of the Dallas-Fort Worth Hospital Council, I commend the state for this action, but I believe there's much more to do. For starters, let's look under the hood before high-fiving. Despite containing nicotine, vapor products do not fall under traditional Texas tobacco regulations. The products are not taxed, and vapor retail stores receive minimal oversight. Frankly, without strict enforcement, many shops won't be cited for selling to adolescents. For my part, I continue to work with State Sen. Nathan Johnson to move vapor products under tobacco regulations.
What Attracts Youth
When I went online (where there's little or no regulation), I found numerous vapor products with enticing flavors of fruits, desserts, candies, beverages, and menthol. A vapor product dubbed "Cookie King" was clearly targeted to teens. Moreover, the menthol flavor has hooked many vapor users. The Centers for Disease Control reports that 88.5% of African American smokers ages 12 and older prefer menthol cigarettes. It's even more attractive when the vaping device is shaped like a USB flash drive. Meanwhile, research on electronic cigarettes and vapor products continues, but the harmful effects and long-term impact might not be known for years.
Playing Russian Roulette
We do know smoking endangers human health. Even exposure to second-hand smoke kills more than 41,000 Americans annually, according to the U.S. Department of Health and Human Services. Bingo parlors, restaurants, and sports bars that allow smoking (even with ventilation systems) expose employees to second-hand smoke. These innocents are putting their lives at risk while making a living.
Adolescence is a pivotal time. The American Heart Association states that nearly 90% of smokers first try a tobacco product by age 18. Studies also show that if someone has not started using tobacco by age 26, the person is likely to never start. On the other hand, it's possible that youth who use vapor products containing addictive nicotine could start down a path to other tobacco products, leading to serious medical consequences. It's disconcerting to know young people are playing this kind of Russian Roulette with their health.
What Needs to Happen on Policy
We need state and federal regulations restricting marketing efforts, such as celebrity endorsements and event sponsorships.
We should stop producing assorted flavors, sweeteners, and menthol in the vapor products, which appeal to young people.
Any manufacturer of vapor products should be required to post warnings that detail nicotine concentration and include language about addiction.
Independent market research should be conducted to verify the effectiveness of vapor products being used for smoking cessation.
We should step up public education campaigns and enact comprehensive smoke-free and vapor-free ordinances in cities across the U.S. To that end, I am working closely with the American Heart Association and other organizations to go city by city to enact smoke-free ordinances.
We need to increase taxes on all vapor and tobacco products.
Finally, we need to ensure total enforcement of age bans for both retail and internet sales, with penalties for the suppliers that sell to underage customers. 
What Individuals Can Do
Each of us has a responsibility to advocate for laws and regulations that strictly limit tobacco and vapor products. On a routine basis, we need to speak with young people about the health hazards and consequences of nicotine addiction. We should look at our moral compass continuously and move in the direction of curtailing vapor product use among young people. Then, we will be helping give beauty and dignity to their lives.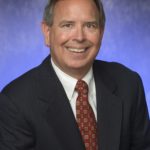 W. Stephen Love is President/CEO of the Dallas-Fort Worth Hospital Council.