On Child Well-Being, Colorado Moving Beyond Family Bubble to Village Model
In May, Colorado enacted landmark legislation to completely fund full-day kindergarten for any family that chooses it — an effort long-sought and hard-won. While a newly-elected governor supported the measure, and the political winds favored us, we believe a new narrative around kindergarten also played a consequential role.
Specifically, our early childhood advocacy partners shifted focus from the impact of full-day kindergarten on children to its impact on family and community economic security, along with the ripple effects of freeing up dollars that many individual school districts have been using to send children for a full day. (Historically, Colorado has covered just over half a day.) It's one example of how communities of advocates across Colorado are working to change the narrative around early childhood development.
How Much Words, Images, and Numbers Matter
The two of us started our journey five years ago in a room full of early childhood advocates, turning over vexing questions: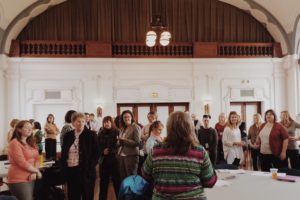 Why aren't we seeing the sweeping changes we need to see for the well-being of children and families in our communities?
How can we communicate about issues impacting children and families to foster the change we need to see?
That same day, we both recall thinking about how much words matter — and how the typical narratives about social change issues can backfire.
Take the common phrase, "Learning starts in the home." While it might seem harmless, it can perpetuate the notion that parents and primary caregivers are the only important ones in a child's life. But that's not true. Children are born learning, and they learn everywhere they go: home, the library, the doctor's office, child care, and so on. For advocates like us working to promote changes in how a community supports families, it's incumbent to tell a story that includes a community's role in helping a child thrive. Enter the Shared Message Bank.
Finalized in 2016, the Shared Message Bank is a product of many people and organizations working together via the Early Childhood Colorado Partnership (ECCP) to create a resource for anyone wanting to improve how they communicate about children and families. The ECCP Network reaches more than 1,000 cross-sector early childhood and family advocates.
Learn more about the Shared Message Bank in this video.
Dozens of partners across Colorado use the Shared Message Bank, which will expand with more messages and tools later this year. The ECCP has created several tools already, including a Photo Bank, which casts a wider net on where families spend time and who plays a role in their health and well-being. With this photo bank, we can tell big-picture stories and counter existing biases around what FrameWorks Institute calls "the family bubble." This happens when parents and caregivers are considered the only sources of accountability and influence in a child's life.
In addition, network members host and attend ongoing trainings on how to tell stories, frame and communicate data, and use visuals effectively.
Last fall, we hosted a training on harnessing data for good. Strategic communication and data visualization expert Lynn Davey highlighted ways the data we share can paradoxically reaffirm negative biases about what we're advocating for. For example, when healthy eating advocates seek to get across racial disparities in child obesity rates, the data they use can deepen racial bias. However, displaying data on the number of junk food ads children of color are exposed to vis-à-vis white children puts the accountability on systemic players instead of individuals. As a result, a richer, clearer story emerges.
Story in Action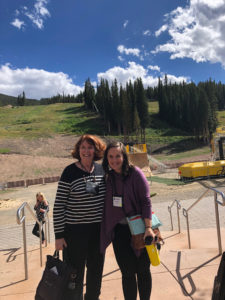 Compelling stories also contain structure. For example, we all have mental health, but most of us don't feel comfortable talking about it. So how do we begin? At Tri-County Health Department, encompassing Adams, Arapahoe, and Douglas counties, we began making mental health promotion across the life span a priority in our public health improvement plan more than five years ago. We sought to reduce stigma associated with mental health issues so they're considered no different than other health issues — thus representing a shift in social norms. We joined the conversation with early childhood advocates because our work aligned well together.
Indeed, the promising work around early childhood through the Shared Message Bank sparked the question: "What framing research do we have for adult mental health?" A grant from the Colorado Health Foundation was key to developing Let's Talk Colorado, informed by FrameWorks' research. Let's Talk Colorado was funded by the State Innovation Model grant, and guided by a message action team of multiple players: primary care, local public health agencies, community mental health, hospital systems, and caregiver organizations. With FrameWorks Institute, we put together a toolkit for mental health advocates.
The Full Equation
Language, images, data, and structure are crucial parts of the equation. The balance includes the way we build messages and the people we work with to craft them. The usual ways we shift narratives in our communities — focused on what we're doing to people, rather than what we're doing with people — won't help us reach our vision of thriving communities.
To make progress, we developed the ECCP Mentor Team, a group of more than 20 advocates in communities across Colorado. The team acts as a learning community and uses the Shared Message Bank. This ensures that developing messages doesn't begin and end with both of us. After all, we know the most powerful and trusted members are anchored in a community, whether that's in a neighborhood, a discipline, or a group with the same lived experience. We also recognize we still have a ways to go to bring families and residents to our table in crafting new narratives.
The Power Behind Our Stories
A former chemist, Patty likes to picture this work like a chemist creates a saturated solution, when every time advocates use a common language, another drop is added to the solution which eventually transforms into a beautiful, solid color. As for me, a child of the '90s, I conjure up a scene from Sister Act, where Whoopi Goldberg acts as the choir director, supporting many voices to move from a cacophony to a cohesive choir.
Patty and I are dedicated to reframing our conversations to build public understanding and support. This effort cannot be accomplished in a one- or even five-year grant cycle. Yet we know that with every drop in the bucket, the solution becomes more saturated. We hope to see that solid wave of change take hold in Colorado and beyond.
Resources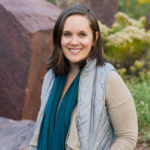 Hanna Nichols brings experience in authentic community engagement and data-driven processes with specific expertise in strategic communication around narrative shifting. She has incorporated these skills in many efforts, especially ones strengthening children, family, and community. For the past five years, she has been engaged in this work at The Civic Canopy based in Denver. She is soon starting a consulting business on community-driven narrative shifting.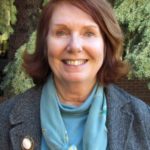 Patty Boyd brings a unique perspective to public health with extensive hospital systems administration. Boyd's policy experience is in organ, tissue, and eye donation and healthy eating/active living. As strategic partnerships manager at the Tri-County Health Department, she is involved in partnership development, not-for-profit hospitals' community health improvement, mental health priority alignment, chronic disease prevention, and mental health/behavioral health work.