My Kansas Aging Farmland Torn Apart by Covid-19
If I asked you to take a picture that represents this time in a Kansas Aging Farmland, what would yours look like?
I'd like to say mine would be of the abundant upcoming fall harvest, beautiful sunsets at my family's pond, and the view from county Road BB where Kirk Zerr's sunflowers stand in the foreground of my beloved hometown, Quinter. I'd like to say that, but that would stretch the truth too much.
There is a fracture in our country's heartland, the likes of which I cannot ever remember. I'm watching this fracture deepen in our rural communities every day. Typically in very rural Kansas this time of year, we are talking about how Bob's dryland corn is looking good, how we need to pick our last tomatoes before the first freeze, and the standard topics before an upcoming election. Now, as we banter about the election, our emotions and opinions are magnified, thanks to Covid.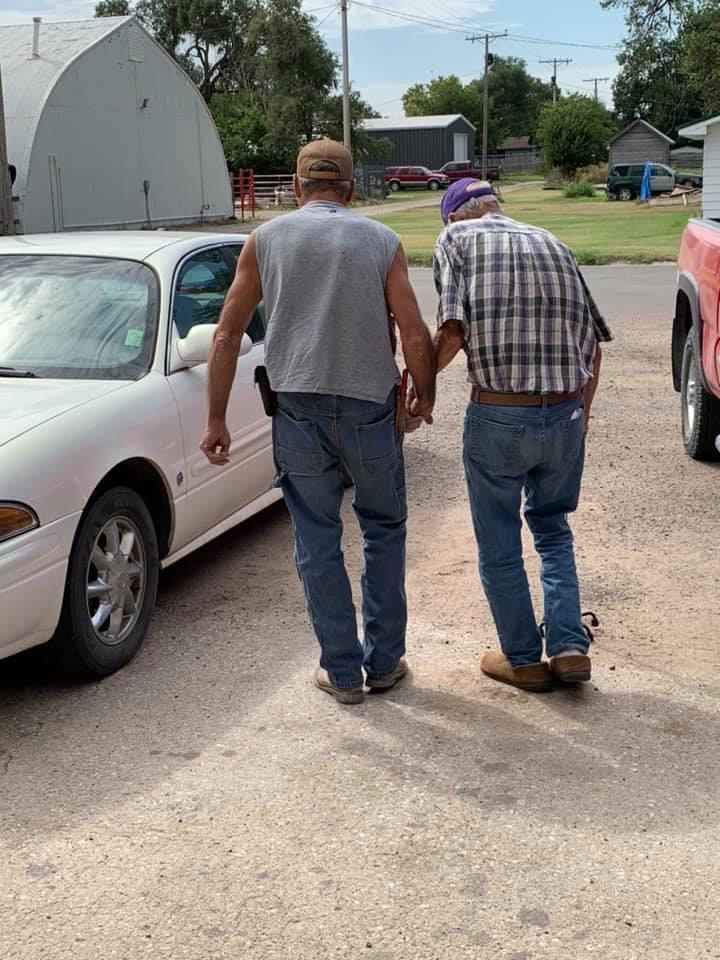 As the coastal states slowly return to normal, we are seeing cases spike. Some locals say this is the natural path for Covid to take, and we need to let the virus run its course — from the outside borders inward. Others say our precautions to protect ourselves and others are too lax.
The narrative here has turned into a mixed bag of whose lives matter more, fake news, what media outlet accurately reports positive Covid cases, what constitutes death counts from Covid, the restrictions on the number of people at a gathering, who is quarantined and for how long, and of course, masks.
Raging Over Masks 
The views on Covid and masks run along two lines: Masks protect everyone and should be worn; or wearing a mask is a personal choice, and we need to trust our community members to responsibly manage the virus's spread.
As a member of the Emergency Operations Center (EOC) in Gove County, I see the divide up close. I am one of four people answering phones, pushing out information, and assisting our Health Department with Covid data collection and contact tracing. Our community members know if they call in to ask questions, they will get one of the four of us. They know who we are, and what our full-time jobs are.
On August 3, our County Commissioners in collaboration with our County Board of Health passed three resolutions related to Covid-19: limiting the number of people allowed at mass gatherings to 75, enforcing quarantine orders, and mandating masks in public. Because this meeting was held via Zoom, many interested community members could watch and ask questions.
Within an hour of the end of the meeting, the EOC phones were ringing off their hooks. I took a call from a community member who knows I'm the county's economic development director, and this person screamed at me through the phone: "So help me God if you don't get this mask order rescinded, I will never spend a dime in Gove County ever again."
Moments later, a new call came in to another EOC member: "This mask thing is the introduction of Sharia law." The following days were a blur of passionate calls with mostly intelligent questions and concerns, and some that were hard to take. I am certain our elected officials were busy answering calls as well.
On August 10, our County Commissioners and Board of County Health held a special public meeting to discuss the mask mandate. All in attendance were respectful and calm. At the conclusion of the meeting, our county's elected officials rescinded the mandate, four days after it went into effect.
Covid-19 in My Experience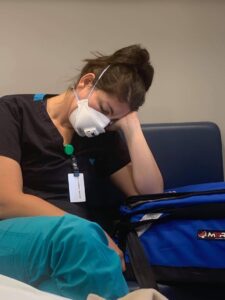 As of today, Gove County has had 20 cases of Covid-19, three hospitalizations, no deaths, and +/- 50 active in quarantine, as we continue to do contract tracing.
On a personal level, I've seen the two extremes of Covid: My husband and mother-in-law tested positive for Covid last month, and their symptoms were very different. I watched my husband's body react to the virus — which he assimilated to severe cold-like symptoms. He slept for two days straight and is nearly back to normal a month later. He lost his senses of taste and smell, and is regaining them slowly.
My mother-in-law was a different story. She was very sick at home for three days, then tested positive and continued to decline at home. Her oxygen saturations dropped over 24 hours and after consulting her doctor, she was transported via ambulance to our closest Covid Care Unit. She'd suffered a collapsed lung and spent five days there before returning home.
In my EMS role, I have taken all three of our Covid patients to the closest Covid Care Unit. While I know many people testing positive have few or no symptoms, I have also cared for those whose symptoms could have easily taken their lives. I have seen it with my own eyes.
Covid Crushing Economies
I see the Covid crisis through a financial lens, too. I am a partner in a relatively new business in Gove County. Our doors opened a year before Covid, and this pandemic is killing our business. We could "get out" now without any partner suffering much loss. I won't lie — I've thought about bailing, and I'm sure I'm not alone. But in the tradition of those here before us, we won't go down without a fight. Frankly without some of the Covid relief funding, we would have closed our doors back in February. Many small businesses in our area are relying on a veritable alphabet soup of Covid aid acronyms to keep going, including:
HIRE (Hospitality Industry Relief Emergency Fund),
PPP (Paycheck Protection Program),
EIDL (Economic Injury Disaster Loan),
SBA (Small Business Administration),
CDBG-CV (Community Development Block Grant – Covid),
CARES (Coronavirus Aid, Relief, and Economic Security Act),
RLF (Revolving Loan Fund),
SPARK (Strengthening People And Revitalizing Kansas),
EM-EOC (Emergency Management – Emergency Operations Center), and
KDEM (Kansas Department of Emergency Management).
For the past 22 years, I've been working in economic development, a field where people are always talking about the power of buying local, investing locally, and keeping money at home. Never has this message been more important than right now.
Businesses have changed their models to accommodate our new normal, which I worry will be here for a long time. We see more free social media sources for advertising. Similar businesses, like restaurants, are not "cross posting" in hopes that each town can capture its own community's sales dollars. I see residents buying certificates from businesses to give as gifts, filling up with gas here before heading out to town, doing the little things they can to inject dollars into our community. We could all help rejuvenate our communities' economies by spending our personal holiday budgets locally, and inviting our distant family and friends to come back home. Our communities have taken care of us for decades — now they need us to continue on.
I maintain that our story will not end here, that Covid-19 isn't our last chapter, and we won't be written out of tomorrow's history books. I'm reminded of beloved rural advocate Amy Briggs, who passed away suddenly in February and lived by the Bible verse: "Faith as small as a mustard seed can move mountains." That is my touchstone.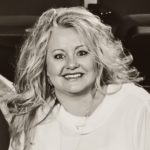 Ericka Nicholson was born and raised in rural Kansas. Nicholson serves as Gove County's Economic Development Director and as the President of the local Volunteer Ambulance Service.