Middle Suburb Nonprofit Works to Put Younger Members on Its Board
In the American Communities Project's Health and Place Report, Lake County, Ohio, is featured as a Middle Suburb — a community slow to change and relatively homogenous with a stagnant population. What does that portend for nonprofit organizations here? It means that elderly white men content with the status quo will probably dominate our boards and leadership, and seek to fill board vacancies with others like them.
Leadership Lake County's history reflects this reality. In 1987, our first executive director was a white, male, retired educator; the board was composed of one women and 15 men, all well over 50 years old — and it remained that way until 2000.
Struggling to Change the Guard
When I took the helm in 2012, our board lacked much diversity. It was 42% female and included just one male member under age 40. In my first few months, this young board member was ready to leave. He came to serve primarily to reenergize our defunct alumni committee and regularly bring together all the years of alumni for networking and community action. And it was falling on deaf ears!
In particular, he wanted to develop an annual calendar of networking events and met this discouraging response: "We tried that and it didn't work." I knew my success would hinge on engaging this one board member in a meaningful way — he was our future, but he represented change in an old-guard world.
As the CEO of a relatively small nonprofit, I am acutely cognizant of how a single individual's personality and behavior can impact an organization. Since our founding in 1987, Leadership Lake County has been providing programs to develop community leaders. We are part of a broad network of community leadership programs that emerged in the early to mid-1980s in response to a national realization that communities needed to develop leaders to thrive. To that end, Leadership Lake County offers programming for sixth-graders to CEOs to learn about our community and find their niche in leading in Lake County.
Attracting and Engaging Younger Leaders
Today, Leadership Lake County is thriving. Our program cohorts are now at capacity. Since 2013, our Signature Program has experienced 58% growth and our Youth Leadership Academy has seen 62% growth in enrollment.
Our alumni meet at least monthly and serve at higher levels of leadership in the county than in the past. Graduates make up almost 50% of the Mentor Area Chamber of Commerce board; 43% of the Lake County Alcohol, Drug Addiction and Mental Health board; and 85% of the Lake Humane Society board.
At the same time, Leadership Lake County's board remains homogenous across race and is now gender-balanced. To fill open board positions, we use a matrix that strives for balance across gender, age, and skills. Since we've adopted this tool, what has changed the most are the ages of our board members: 65% are under 50, with one still under 40. The engagement of the aforementioned younger board member was a catalyst to attract others. Of our 20 board members serving today, 13 are below age 50 and represent a variety of industries: manufacturing, housing, healthcare, higher education, mental health, banking, utilities, housing, and commercial construction.
As part of an intentional strategy to attract a new generation, younger board members are all graduates of the Signature Program. We survey the current program cohort for their interest in serving as future board members when the program year concludes each May. Placing every respondent on a standing committee as a non-trustee for a one-year term has created a talent pipeline for our board, and provides additional leadership training for those who move on to other boards after a year.
To help new board members find their niche within our structure, we give them options and employ board mentoring. New members can choose to serve one of several committees: finance, development, governance, programs, alumni, scholarship, or recognition. Most serve on two committees: one where their expertise lends value to the committee's work and one where they can learn new skills.
For many nonprofits, new board members tend to sit quietly for a few meetings — an issue we were experiencing, too. To address this, a member of the Board Effectiveness Committee now onboards new trustees, welcoming them over lunch, sharing insight on operations, and helping them engage more quickly.
Underlying Our Growth
I see a few things contributing to our overall success. We narrowed the focus of the board to:
Mission — the development of present and future community leaders;
Board development — a commitment to being a high-performing board, serving as a model to the nonprofit sector; and
Funding — a guarantee of our financial sustainability through program support, personal donations, fundraising, and relevant introductions.
Mission
Mission drives everything we do. During the interview process, we ask board candidates to identify how our organization's mission aligns with their personal values. Since the majority of trustees are graduates of our Signature Program, their passion for our mission is rooted there. Some board members have enrolled their children in Leadership Lake County's youth programs, and can testify to their deep impact.
Board Development
Board development begins by understanding why a member wants to serve. As a 44-year-old candidate said in his interview: "Having the ability to make a difference in the community. There is always a need for good leadership, so seeing young students as well established adults develop into leaders is great, especially with … many people retiring. If we don't backfill leaders, then there will be a void."
In addition, we find that our board's work is more effective when members like and respect each other, so at annual board retreats we always include icebreakers and team-building activities to enhance personal connections. One member, age 46, said, "Organizational activities that bring the board closer have been helpful. Some boards only see each other at board meetings."
Our efforts have been further validated in surveys. When we asked board members what makes our board meaningful to them, they said it is the high level of respect and collaboration among members. Many have noted that the commitment of each trustee to their respective committees generates an affinity chemistry, creating an environment that engages the heart and mind.
Indeed, board development should translate into value not only for the organization but for individual members. Another board member, Jeff Ruple, 46, notes, "I serve as Leadership Lake County is an organization I believe in, and I appreciate that members genuinely enjoy working together."
Funding
On the matter of funding, we want board members to constantly seek opportunities to make introductions and open doors to funders —  and we require them to make a personal contribution each year of at least $500 to support operations. We address this expectation in the interview process so no one is surprised later, and we include it as a line item in the budget for transparency. Although not required, all members also contribute to an annual drive to support our youth program, with gifts ranging from $100 to $2,500.
On the nuts and bolts, our strategic dashboard delineates which committee is responsible for work in one of four strategic areas: program excellence, alumni engagement, image and visibility, and financial sustainability. A committee's agenda includes a list of its particular strategic initiatives — which helps to keep everyone on task and review progress.
To maintain our organization's freshness, we make it a priority to recruit program participants and trustees. The Board Effectiveness Committee uses the Signature Program survey to identify new committee members while the Alumni Committee reaches out to potential candidates from their organizations and circles of influence.
Evaluation
Leadership Lake County conducts annual board self-assessments, asking members to rate their performance on four key dimensions: governance (attending meetings, active engagement), ambassador (attending events, signing letters), sponsor (funding assistance), and consultant (lending expertise). In the initial assessment, conducted in October 2017, only one member indicated he did not meet ambassador expectations, but he said he would do better the following year.
In another part of the assessment, committees report accomplishments of the current fiscal year and set goals for the following year. For example, in 2018 the Board Effectiveness Committee hit a home run on the strategic goal to strengthen board capacity. They clarified board roles, including adding by-laws language to remove trustees for poor performance; conducted the first board self-assessments; and hosted the annual orientation and training that focused on the opiate crisis and resulted in a civic impact project, reaching more than 3,000 citizens.
What's Next
This year, developing a succession plan for the board and key organizational positions is a top priority for the Board Effectiveness Committee. To maximize our hiring matrix in board succession planning, this committee recommends implementing a committee chair mentoring structure. Here's how it would work:  After the first year of chairing a committee, the chair would then mentor a vice-chair to prepare him/her to lead that committee the following year. This approach would ensure that every board member has an opportunity to fill a leadership position on the board and keep committee leadership fresh.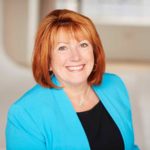 Dr. Jessie Guidry Baginski is president/CEO of Leadership Lake County in Ohio. She can be reached at jbaginski@leadershiplc.org.