In Rural Middle America, Gun Shop Owner Opens Up About Sales Surge
While many American businesses are now shuttered, the firearms industry, including manufacturing, sales, and shooting ranges, is considered a "critical service" in the coronavirus pandemic, the Trump administration announced last month. And on April 1, a New York Times headline blared: "Second-Highest Ever: March Gun Sales Spiked as Virus Fears Grew."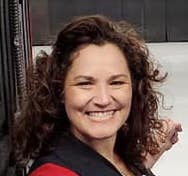 For entrepreneur Josette Severson, the only female gun shop owner in North Dakota, the headline hits home. Severson, who employs seven people at Prairie Patriot Firearms Training in Morton County, has seen her sales soar 60% in the past month, putting her store in the black for the first time in her three years in business.
As of today, Morton County (pop. 31,095), part of small-town Rural Middle America, has 17 cases of Covid-19, and one person has died. North Dakota is not under a stay-at-home order.
Recently, I spoke to Severson about what's behind the surge in sales, how she's training her team and customers in these difficult times, and the challenges she foresees.
What People Are Buying
Right now in my store the majority of the firearm purchases are handguns. I would say it is 85% handgun and then 15% is long gun. I'm looking out on the showroom floor right now, and I am almost wiped out from what I usually carry on the floor for handguns.
First-Time Buyers v. Stockpilers
I'd say it's about a 60% first-time ownership and 40% folks that are stockpiling and now want to add on to their collection, want to have a modern sporting rifle, or what most folks call an AR. They're starting to think how and where they want to have their tools placed in their home, and they're also stockpiling up on ammo.
Ammo is the other challenge for me right now. I was fortunate that I found one distributor who's so good about helping me stay stocked up with my ammunition for sales — in the range and for some of our classes.
For our training and self-defense classes, we kind of pulled back on that during the weeknights, too, because even though they're only a class size of four or five people, a lot of folks have said no. We just want to stay home for now and that's fine.
But Saturday mornings, Saturday mornings is when I do testing, a North Dakota Class for Concealed Weapons. We've been averaging eight people a Saturday. So they're taking that responsibility to heart and understanding that they do need to have some good formal training with that responsibility.
Mix of Men and Women Buyers
Right now, men are still the majority of buyers. I would say about 80% of the sales are men; 20% are women.
And of the women, they're a lot of single ladies I'm noticing who are on their own at home, and the nice thing is we're going into year number three with our storefront so now we're starting to get that recognition out there on the street that this is the facility to come to to get that good education and training.
I always ask when somebody comes in: Hey, is this your first time at my store? And if they say yes, I always tease them and say, 'Well, are you from the area?' If they say yes, I say, 'Well, why, we've been waiting for you.' We're going into year number three. I engage that conversation to see how did they find out about us and why today? And of those single ladies, it's, 'Well, I'm on my own, and I've been following your Facebook page and understanding the importance that you are your own bodyguard, so you know, I want to learn from you just to protect myself.'
Why People Are Buying and Stockpiling
You know the first week, it was very frustrating because that week of panic-buying we were hearing silly things like well, there's going to be riots and you know we're going to shut down the government. And my head was shaking like, 'Why; why do you think there's going to be a riot?' 'Well, because we have an epidemic going on, Josette.' And I said, 'OK, take a breath. Please understand this. Just calm down; don't panic buy because you think that you need to have this tool in your hand for a riot.'
I think the government right now is doing a great job, federally and state and citywide, to calm everybody's fears. At the end of the day, I literally had to sit down and just take a breath.
It's changed from the big slush of the panic last week, riots are going to happen, to more common sense that OK, so this is going on. And we're getting through it, but I'm hearing a lot of people saying going forward, I understand now that this is something to take seriously so now we're getting more but educate me. What kind of training do we do once we get through this so that we can be prepared if something worse happens?
Social Distancing in Training
It's a classroom setting and people sit a little bit further apart. Then when they're on the range there's enough gap in there, plus we have our nice little dividers. I think I had eight people in testing on Saturday morning so I got a picture with all five lanes with somebody in the lane and did a social post that says here we are doing our social distancing in the range today.
Discussing the Current Climate With Other Owners
A lot of us have been so crazy-busy. Actually the sporting goods director at a box store in the Upper Midwest, who's been like my mentor since I started Prairie Patriot seven years ago, did call to check on me this week. He said, 'Sweetheart, what's going on? How are you doing?'
I'm very blessed to have someone in a competition be worried about me and my little mom-store all by myself. But from the other small shops I haven't heard much. I have a little bit of the edge on them because I have a range and they don't.
Reading the Tea Leaves
I think we're going to have another week, maybe two weeks of folks coming in and looking at guns to buy and this and that. And then I truly believe in my heart after that it's going to turn more into the classes, the education and training that's going to hit hard because, well, one, people have been cooped up and they want to get out and about. And so many of our courses, too, we had to postpone, so I'm planning on running a lot of specials and sales on our courses to say OK you've purchased the gun during all of this. Now let's take that time and focus and get you the training and education that you need to go with that responsibility.
Committing to Training
It's a lifelong commitment honestly. I teach and promote the best tool you should never need to have — either your lethal or non-lethal personal protection tool. Your best protection tool is situational awareness. Most of my courses, my basic education courses, run two and a half hours long, but what we, myself and my other certified trainers, try to instill is that shooting is a perishable sport, so you have to stay on top of your skills.
You should practice a minimum once a month live fire with your tool; once a week do something called dry fire, which is just the art of practicing without actually live firing. It could be anything from pulling the trigger to working on drawing from your holster, or it can be playing situations in your head of well, what if? What if this happens to me? So it goes through your mind, how am I going to react to that? What you do need to have instilled in you is maintaining situational awareness at all times.
Concerns About Violence
Our law enforcement community supports my store. When I was talking with someone, they said with everything that's going on right now, the sad part about it, once people get stuck being told stay home, don't go out and about, they're bracing themselves. They said we're going to get a huge increase in domestic violence, lots of people are going to be drinking too much at home, other issues are going to happen.
Eyes Open for Possible Domestic Violence
It's usually female and they want to talk. And I just kind of talk to the side and say, 'Hey, is there something you want to talk about?' And they open up. They're looking for comfort. I did have one lady who came in one day and I could see something was up. She was very agitated, and you could tell she was crying. And I pulled her off to the side and I said, 'Hey, if you want to talk to me, I'm standing right here. I'm listening.'
Training New Employees to Watch for Trouble
I have four new employees on my staff. So I got to sit down and talk with my new staff and let them know that if your gut tells you something is not right, always listen to your gut. Don't let them in the range. But sometimes they can mask it. It's a sad thing that happens kind of frequently, that people will come in distraught to a range with a gun and go commit suicide in the range.
All my staff are Range Safety Officers, but they know that once you start sending people into the range, you have to keep an eye on that monitor, watching folks who are in it. I don't have enough staffing funds to have somebody always in the range when somebody is in there shooting, so that's why we have our big monitor to keep an eye on and see if there's any issues where we have to go in and say, 'Hey what's going on?'
Why Staff Are Out
With my manager, he and his family have asthma really bad, and they have two little ones at home, so they decided to self-quarantine until the governor says things are OK. So I lost him for about another month here. Also one of my newer staff members, his daughter has an autoimmune disease that he said I just cannot risk. She's usually in the hospital several times a year, and he's like, I can't risk being out and about. And I said you stay home. Don't worry; we've got other staff that will cover for you.
Greatest Worries
I guess the biggest for me personally is just that all of these folks who did come buy guns who aren't going to seek education, and how to use that gun. And with everybody being cooped up and people just being silly and using that [gun] not in a good way.
Finding Strength and Hope
My friends and my staff, they're all very, very supportive. As I was coming into the store this morning, driving down Memorial Highway, a lot of the storefronts that have nice big flashy marquis signs, all of them are flashing, We're going to get through this together. Stay strong.