How We're Reimagining the Transportation System in Metro Denver
Editor's note: The American Communities Project explored health and socioeconomic trends across our 15 community types in our first report released in fall 2018, and supported by the Robert Wood Johnson Foundation. We also took deep dives into five communities of different types, including Douglas County, Colorado, an Exurb near Denver. There, we met with Regional Transportation District Board Chair Doug Tisdale. In the post below, Tisdale describes efforts to redesign the transportation system in the Denver region.
Over the next 30 years, the population in metro Denver is expected to grow by more than 30%, from 3 million to 4 million. At the Regional Transportation District (RTD), where we provide commuter rail, light rail, buses, Access-a-Ride, and FlexRide services, we know this growth will spur increased congestion, a greater need for transportation options, and the debut of new technologies — all in the context of limited options to increase transportation funding.
Within a diverse district of almost 2,400 square miles (the largest geographical district in the country), our agency knows we can always improve the service we offer to meet the region's future transportation needs. To do this important work, I and my colleagues on RTD's elected 15-member Board of Directors maintain close relationships with leaders from 40 cities in eight counties in the Denver region — Adams, Arapahoe, Boulder, Broomfield, Denver, Douglas, Jefferson, and Weld. We take a regional approach while respecting the individual differences of each community we serve.
And they are very different counties indeed:
Adams, an Exurb (pop. 503,167): The original home of the Cheyenne and Arapaho peoples, heavily involved in agriculture, culturally diverse, evolving as a modern day urban / suburban / rural mix.
Arapahoe, an Urban Suburb (pop. 643,052): Colorado's first county, the "election bellwether" of the state, home to the richest city in the state, suburban setting with urban sensibilities.
Boulder, a College Town (pop. 322,514): The home of the University of Colorado and gateway to Rocky Mountain National Park, with a young and socially-conscious population.
Broomfield, an Urban Suburb (pop. 68,341): This new county was created in 2001 out of a former agricultural community that was originally located within four different counties.
Denver, a Big City (pop. 704,621): The beating heart at the center of the region, taking up only 155 square miles (53 of which are occupied by the Denver International Airport), with the most diverse population of any county in the state.
Douglas, an Exurb (pop. 335,299): One of the fastest growing counties in the nation, with enviable open space and a high standard of living.
Jefferson, an Exurb (pop. 574,613): An incredibly beautiful rural county that was the site of the original Colorado gold rush and contains what was once the richest square mile on earth.
Weld, an Exurb (pop. 304,633): One of the richest agricultural counties in the U.S. and the heart of oil and gas production in Colorado.
Crafting a Mobility Plan for the Future
The question of how we do this work is at the heart of Reimagine RTD, a transparent, two-year project launching this month to reimagine and redesign the mobility of the future. The program will concentrate on a comprehensive redesign of RTD's service, programs, and funding opportunities to address growing demands and to enhance the customer experience.
More specifically, Reimagine RTD will:
examine our bus and rail service to create a rational, sustainable, and defensible balance between ridership and coverage.
tackle future projects, including the completion of the unfinished corridors approved in the 2004 FasTracks voter initiative. (FasTracks is an unprecedented investment in rail, bus rapid transit, and infrastructure that has already seen almost $6 billion in investment. More than $1 billion of this investment went to the Disadvantaged Business Enterprise/Small Business Enterprise Program.)
include on-demand mobility service and other technology integration, such as our expanded FlexRide micro transit service, our groundbreaking partnerships with Uber, Lyft, Transit, and others (allowing riders to explore and pay for their transit options).
explore new funding possibilities, including creating value capture mechanisms through transit-oriented development and other development opportunities.
To understand better what the mobility plan of the future in our 2,400-square-mile District should look like, we are putting that question to the public. Reimagine RTD will include extensive community engagement, with public meetings throughout the district in a collaborative and cooperative process over the next two years, including community listening sessions, online engagement, telephone town hall meetings, community events, focus groups, briefings with media and regional communicators, and a series of public opinion surveys. To the greatest degree possible, we aim to listen to and learn from communities about their mobility needs.
Through Reimagine RTD, we plan to build on our partnerships with our stakeholders, such as the Colorado General Assembly, the Denver Regional Council of Governments, the Metro Mayors Caucus, the commuting advocacy groups, and the communities of people with disabilities and disadvantages, to determine how the region can collaborate and cooperate in integrating new mobility services as described above with our traditional options of rail and rubber-tire service.
What ideas and plans will we have in hand in two years? We don't know. We won't prejudge this process. We are here to empower this process. Skeptics have begun heckling us from the sidelines, suggesting that RTD already knows what it wants to do and is simply seeking affirmation from the process. Proponents are cheering us on, knowing that meaningful change often calls for new ways of working together. To both our detractors and supporters, I say Reimagine RTD is the most ambitious program the agency has embarked upon in more than 15 years. It is an exercise in working on a clean slate with an open and responsible mind, in order to provide safe, clean, reliable, courteous, accessible, and cost-effective transportation services to people in the region as informed and powered by the best technology that we can implement.
We know this process won't be easy. It will prompt tough conversations about how we can and should serve people. To jump-start the discussion, we invited Jarrett Walker, an international transit thought leader and expert in public transit network design and policy, to speak with RTD leadership, as well as transportation planners and stakeholders from throughout our region.  A key element highlighted during Walker's presentation — which has been used by him in evaluating service and transit system redesign in other cities around the world — is to address the appropriate mix of ridership to coverage. To say it another way, is it our goal to increase our ridership (which will increase use, service, and revenue) or to provide broad coverage to everyone in the district? Obviously this is not an ita vel non process; it is not "yes or no." It is a question of finding a reasonable balance. That consideration is just one of many components to be reviewed through the Reimagine RTD process.
Pioneering Investment and Partnerships
RTD is a national leader in transit, with leaders around the world regularly approaching me, my Board colleagues, and the agency's leaders and staff to understand how the agency has achieved its successes. We have opened six transit corridors in the past three years, something not accomplished since the legacy systems were built a century ago. Our ambitious and visionary FasTracks program is approximately 70% complete, with almost $6 billion invested throughout the District's economy.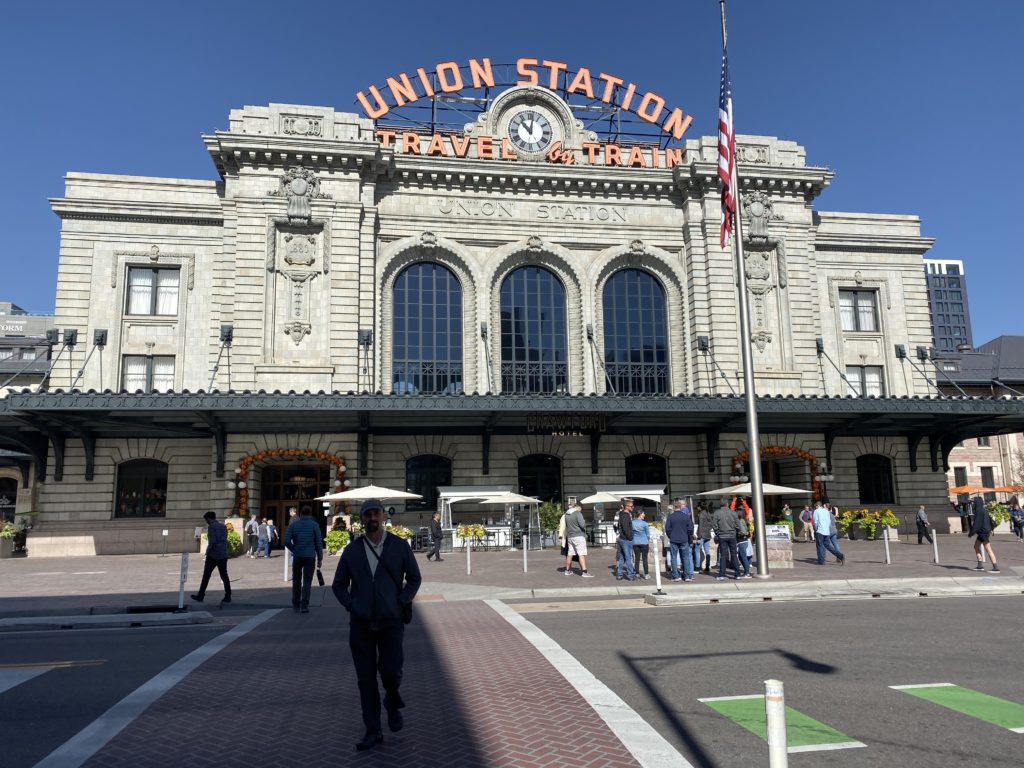 RTD is the first transit agency in the United States to have successfully implemented a public-private partnership to finance three commuter rail lines, crossing Denver, Adams, and Jefferson counties and a new commuter rail maintenance facility in Denver. Likewise, we were the first railroad in the country to implement positive train control (PTC), a safety system that will serve to prevent devastating crashes resulting from high speed or other dangerous operating conditions on those commuter rail lines from the ground up. The purchase and redevelopment of the iconic Denver Union Station by RTD and our partners for $500 million — a station now known as "Denver's living room" — has been followed by $5 billion in development in the Lower Downtown district surrounding the station.
As the regional mobility integrator, RTD continues to pursue relationships that integrate new mobility services with traditional public transportation modes. RTD's recent groundbreaking collaborations with Uber, Lyft, and Transit have provided the public with additional mobility planning and utilization options. We remain the first and only transit agency in the world to offer the ability to purchase mobile tickets through the Uber app.
What's next? We'll find that answer together as Reimagine RTD moves forward. Like all transit agencies, RTD is not unique in the challenges it faces at a time when the industry is weathering fundamental changes. What sets us apart is our commitment to face these headwinds with curiosity; an eagerness to listen; and constant communication, collaboration, and cooperation. I am exhilarated to consider all that the process will reveal. I hope you'll join us for the ride!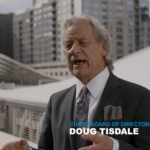 Doug Tisdale was elected as the RTD Board Director for District H (Cherry Hills Village, Greenwood Village, Centennial, Littleton, Columbine Valley, and Highlands Ranch) in 2016. He was elected Chairman of the RTD Board in 2018 and again in 2019. He is the former elected Mayor and two-term Councilor for Cherry Hills Village. He is an attorney engaged in private practice and is a popular MC and live auctioneer for nonprofits throughout Colorado.