Georgia County Works to Close Its Digital Divide via Access Points
Tucked in the middle of Georgia about 90 minutes southeast of Atlanta, Jones County (pop. 28,735) has struggled with limited internet access: 77% of county households have broadband access, and 87% of households have a computer, according to the U.S. Census from 2014-2018. The U.S. average broadband rate is 81%.
The county's digital divide became an immediate problem this past spring when students needed to rely on the internet for virtual learning. In Jones County, classified as part of the African American South in the American Communities Project, about 25% of residents are Black, 72% are White, and 2% are Hispanic. Residents under 18 make up 23% of the population.
To provide more internet options for students and other residents, Jones County's Board of Commissioners enacted the Connectivity Enhancement Pilot Program on August 4. Through a partnership with Windstream, a local internet provider, the county is currently installing access points at four of its fire stations, where residents can go for high-speed internet. The program is not only expected to help residents connect but also improve firefighters' training and response time.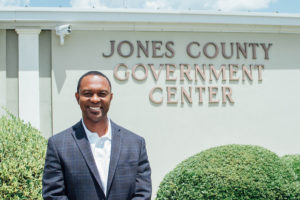 I caught up with Jones County Commissioner Jonathan Pitts, first featured in our 2018 report, to learn more about the initiative's origin and benefits.
Pinkus: Why did the digital divide become a priority?
Pitts: During the pandemic, while schools were closed, children had issues connecting to the internet to complete assignments. Filling the internet connectivity gap became a priority statewide.
In May, Gov. Brian Kemp announced a donation from AT&T to the Georgia Department of Education, Foundation for Public Education. With this donation, nearly 450 Wi-Fi Rangers were deployed to 36 school districts. Jones County received hotspots in August. Each hotspot enables internet connections for up to 45 devices at one time.
Pinkus: How did your Connectivity Enhancement Pilot Program come about?
Pitts: In March, I read the article "County-installed hotspots bring broadband to rural areas" in the NACo (National Association of Counties) publication about efforts to install hotspots at particular county facilities in Goochland County, Virginia, a rural area outside of Richmond. Closer to home, I became aware that some communities in middle Georgia were placing hotspots on school buses. I felt we could implement a similar initiative in Jones County, and brought this idea to the Board of Commissioners in June. 
Pinkus: Was there any pushback in launching this effort? 
Pitts: No, the Board of Commissioners said it was a good idea, and wanted to know the cost and which areas would be included in the pilot program.
Pinkus: What's the project costing, and where is the funding coming from?
Pitts: It's approximately $5,500 for three months at four fire stations in the south, east, central, and west parts of Jones County. The funds are coming from the county's general fund.
Pinkus: Tell us about your partners and their roles.
Pitts: Windstream, the local internet service provider, is our only partner. The company will install the hardware, monitor the usage, and provide reports on how the service is being used.
Pinkus: What challenges do you anticipate (logistical, terrain, and other)?
Pitts: Windstream identified the four best fire station sites to implement the program. So I don't believe logistics or terrain will be challenges.
Pinkus: What is day-to-day internet access like for Jones County residents now?
Pitts: Day-to-day internet access is average in Gray, the county seat and main city, but in rural areas the service is poor.
Pinkus: What should residents' day-to-day experience be like?
Pitts: Residents will need to go to the fire stations, where they should expect high-quality internet service every day.
Pinkus: What will residents pay for service?
Pitts: Internet service at the fire stations is free for Jones County residents. For residents who have high-speed access at home, the rates differ depending on services purchased — internet, TV, and/or phone. My own Windstream bundle plan costs approximately $100 a month.
Pinkus: How exactly will these services operate?
Pitts: Windstream will offer the following services:
Internet at each fire station site will have a minimum download speed of 20 Mbps and 10 Mbps upload. Most will go up to 50 Mbps on download.
SDWAN (Software Defined Network) allows the Jones County Board of Commissioners IT representative to monitor, adjust, and track the bandwidth use of devices and applications from anywhere with an internet connection.
Wi-Fi access points are installed and maintained by Windstream. Each location will have two secured access points that will allow our IT representative to set protocols, passwords, and IP blocks for the Wi-Fi network.
Pinkus: What are you hoping the access points will do for the community? 
Pitts: Improve connectivity for residents in Jones County's more rural areas so they aren't required to drive into Gray to log onto the internet at McDonalds or Dairy Queen. This new service will also help firefighters with training and response time.
We hope the partnership with Windstream will have some long-term positive outcomes for our community, including economic development by drawing people to and keeping them in Jones County. People can choose to live in a quiet, communal hometown and still get their work done.
At our September public hearing, a couple of residents addressed these benefits. One said a lot of people like living in less dense areas and need to be able to work from home. Another said he works for an IT company in Memphis, Tennessee, and he needs broadband to work from home — and noted kids need it for their schooling during the pandemic.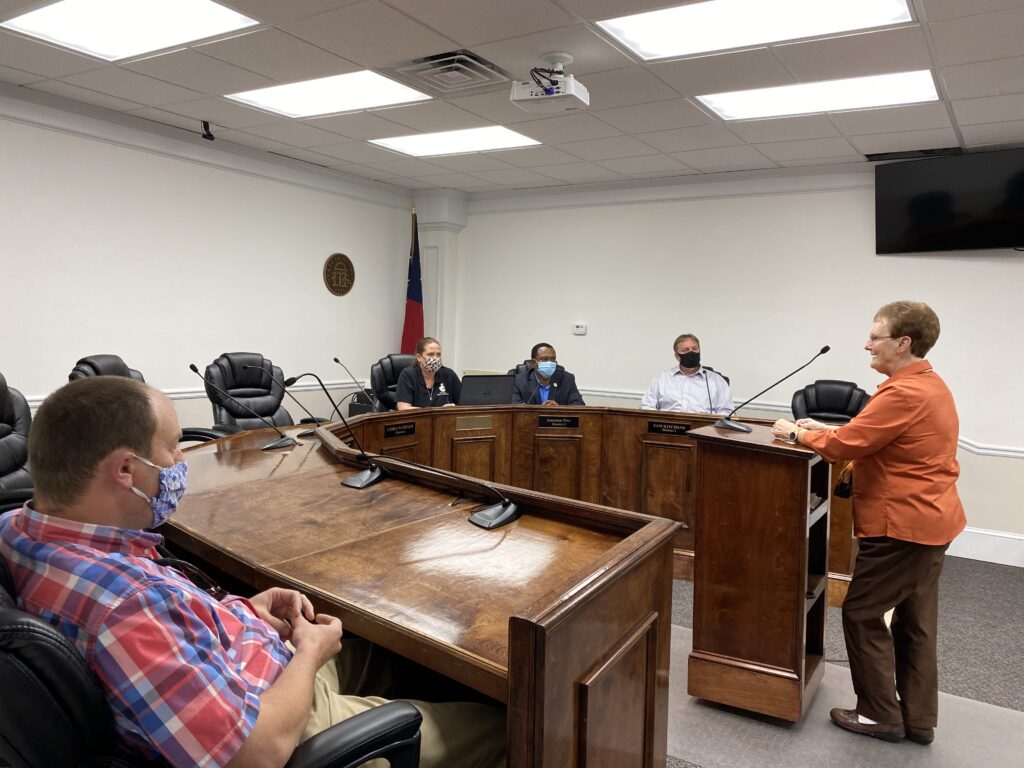 Pinkus: What are the benefits to firefighters?
Pitts: Firefighters will be able to stream online training programs and incident reports into the database, as well as an alert system that will show incident locations through GPS, which will assist with the quickest route. The new service is also expected to encourage college and EMT students to spend more time at the stations. 
Pinkus: What time frame are you working on? 
Pitts: Windstream started installing hardware last week. We believe it will take approximately 30 days to complete the installation process, and that we will be up and running near the end of October.
Pinkus: How is the community reacting to this effort now? 
Pitts: We have the full support from the Board of Education, and received positive feedback from residents. At our September public hearing, Ginger Bailey, Chairman of the Jones County Board of Education, said she was so pleased that the Board of Commissioners was taking this issue on during the pandemic, noting there are 950 virtual learners right now in the county, and because of the students, it was vital to have broadband.
I'm also sharing a letter of support from a middle school principal.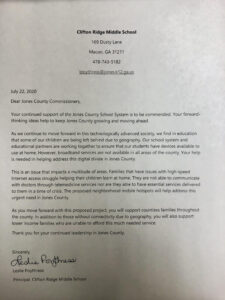 Pinkus: What happens after the pilot is over?
Pitts: Based on the usage, the Board of Commissioners will explore a partnership with the Board of Education to expand this program throughout the county at additional fire stations.
At our public hearing in late September, Senior Vice President of Tri County EMC & Chairman of the Development Authority Greg Mullis said his team conducted a feasibility study in 2019, and determined it would take $60 million to undertake a broadband project covering all eight counties they serve, including Jones County.
Pinkus: What's the immediate next step for you?
Pitts: The Board of Commissioners is pursuing a Broadband Ready designation. This designation will let the Georgia General Assembly and businesses know Jones County is working to meet our residents' needs. And as funds become available, Jones County stands a greater chance of being awarded funding.
In addition, in my role as Chairman of the ACCG Economic Development and Transportation Committee, ACCG will ask the Georgia General Assembly to appropriate funds to the state grant program to help eligible local governments and their private sector partners provide broadband services to underserved areas like Jones County.