College Student's New Spin on Hometown Traditions in This Unusual Holiday Season
Whenever the forecast calls for a blizzard to blanket much of America, eyes turn to Florida as the ideal place to be. "National Hate Florida Day" recognizes that we are an outlier for our year-round sunny skies. In the Urban Suburb of Hillsborough County, encompassing the city of Tampa, we hit just about every stereotype you can think of: We spend our winters stringing holiday lights to palm trees and wearing shorts and sandals to visit Santa. We take the holidays very seriously.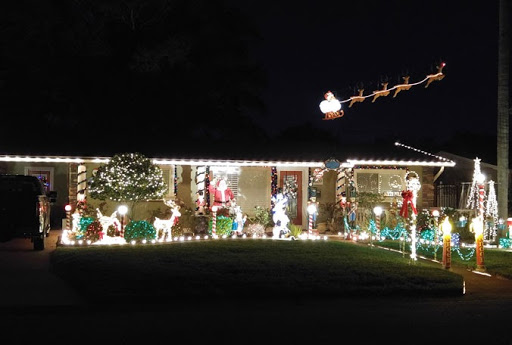 Even in the middle of a pandemic, we haven't missed a beat. It's rare to drive by a house not fully decked out in holiday lights. And Tampa loves to use its many parks and green areas for continual Christmas tree lightings — there's probably been at least two a weekend for the past six weeks. We know no holiday season would be the same — pandemic or not — without holiday movie classics like Elf. So drive-in movie theaters have popped up, ensuring that county residents can still get our beloved holiday movie fix.
Nationwide, 48% of adults age 18 and over said they planned to decorate their homes and 43% planned to watch holiday content, according to an MRI-Simmons Covid-19 Consumer Study conducted in October.
But it's hard to forget how different the mood is this year. This time last year, I was finishing off my first semester at George Washington University in Washington, DC. I kept a countdown on my white board until I returned home to Tampa, where I could indulge in tree lightings and boat parades galore with my family. With my campus closed this year as a Covid-19 precautionary measure, I've been home since March — and looking forward to the holiday season even more than usual. Based on the amount of holiday lights and décor I've spotted here since August, it seems other Hillsborough County residents have been feeling the same way.
An Unsteady Economy
In Hillsborough County, the unemployment rate peaked at 12.3% in April, and dropped to 5.7% by October. The pandemic has left as many as 1.3 million residents food insecure. Nonprofits like Feeding Tampa Bay opened up "mega pantries" to make way for the increasing need. For the holidays, Feeding Tampa Bay has partnered with Hillsborough Community College to hand out bags of food to any family in need of a little extra help.
It took the Florida government several months to process unemployment benefits, leaving many Hillsborough County residents looking for additional support. Charles Martinez-Cartagena works in the public service field and just graduated from the University of South Florida with his Master in Public Administration. He lives in a house with three roommates, two of whom found themselves out of work due to the pandemic.
"Rent and other monthly bills for our household ended up being a challenge," Martinez-Cartagena said. "They (the two roommates who lost their jobs due to Covid-19) applied for unemployment with the State of Florida, but it was several weeks until they finally got approved and funds transferred into their accounts, so they had to ask close family members for support as well."
Martinez-Cartagena typically goes back home to Puerto Rico to spend the holidays with his family, where the holiday season is a cultural celebration. Instead, he is trying to recreate it with his roommates by hitting all of the Tampa holiday stops and supporting local businesses.
In Simmons's nationwide study of adults, 51% of adults 18 and over said they were planning to spend the same this holiday season, while 37% said they were planning to spend less. (11% said they were planning to spend more.)
Where Growth Meets Tradition
According to U.S. census data, Hillsborough County was the 10th-fastest growing county in the nation in 2018, bringing in more than 27,000 new residents. In the "snowbird" state, Hillsborough County is a younger, up-and-coming area, with 14.5% of residents age 65 or older, while 22.1% are under 18.
Even as Hillsborough grows, it maintains its traditions. If the county is known for anything, it's parades. Each year in January, the Gasparilla pirate invasion draws hundreds of thousands to the waterfront, clad in pirate gear. Pirate krewes storm the streets, yelling, cheering, and throwing lots of beads. Mario Lopez was parade marshal two years ago. When the Tampa Bay Lightning won the Stanley Cup in September, players hopped on jet skis and grabbed the beloved trophy for a parade on the water. And the annual Christmas boat and golf cart parades never fail to bring out Tampa's most enthusiastic decorators and parade-goers.
Christmastime in Tampa: Winter Village, Ice-skating, Limited Social Distancing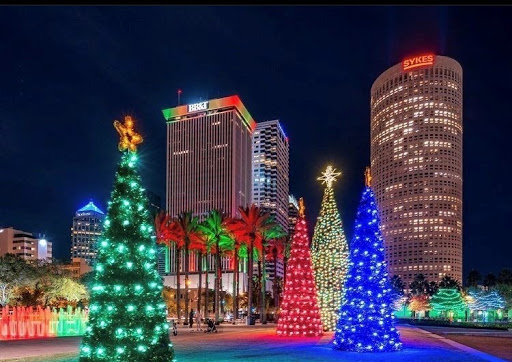 My favorite Christmas tradition takes place in downtown Tampa. Blocks away from city hall, which lights up red and green for the holidays, sits Curtis Hixon park, a big, green recreational area recognizable to residents here. It overlooks the Hillsborough River and just beyond that stands the historic University of Tampa. At night, it looks like a castle.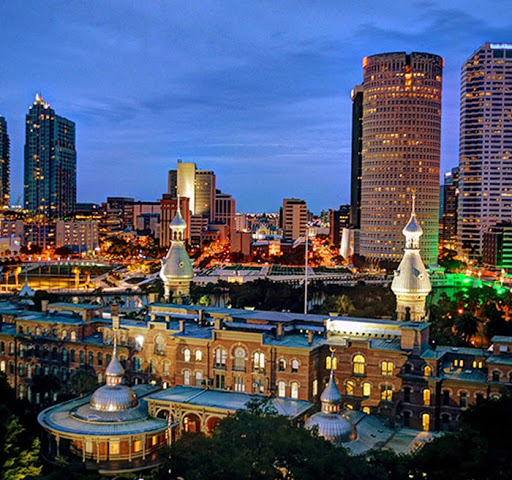 Year after year, Curtis Hixon goes all out for the holiday season. Every bush and small tree are transformed by a light display that dances to festive music. A man-made ice rink opens up in November to bring a glimpse of a cold winter down to our sunny county. Nearly every hour, a zamboni enters the 5,000 square feet of ice to remove all water buildup amid Tampa's notorious humidity. I've wiped out on that ice rink too many times to count. 
A ginormous fir sits right in the middle of the park. Each year, thousands of residents gather for the annual Curtis Hixon Tree Lighting to officially signal the start of the holidays. Although the crowd was a little smaller than normal at this year's lighting on Dec. 4, hundreds of residents still took part in the annual tradition. And a Winter Village, full of pop-up shops, is right on the riverwalk, giving local shop owners a chance to interact with new people. 
Right now, that gives a whole new lift to the holiday season. Many small business owners have struggled to stay on their feet.
Pre-pandemic, I was off to a different outdoor market almost every weekend. Filled with local shops and farm-grown food, they truly are a Hillsborough County staple. My mom and I have always loved driving to the many different weekend pop-up markets, buying early holiday presents or just window-shopping. Yuravine Bros, a local plant shop, has always been our favorite.
When weekend markets halted in March, the two owners of the plant shop had to quickly change their business model. First, brothers Sam and Aaron Rodas took a monthlong break. Then, they launched an online store, complete with free, contactless delivery. As the pandemic worsened, they decided to buy a storefront. They moved in last month. But their main business still comes from outdoor markets. Thanks to the Winter Village, among other holiday-themed outdoor places, they can get back to doing just that.
 "We love the positivity and liveliness that plants bring into people's lives and being able to share that with more people sounded like an exciting thing to venture into," Sam Rodas said. "The markets are what make us keep going. We meet new people every time. They love our set-up and they ask us where our shop is; now we have a place to tell them. But markets are essential to small businesses. Thank god that they are slowly reopening."
But part of me fears that Hillsborough County is a little too cavalier about getting the economy back up and running. Right now, our Covid-19 positivity rate is more than 7%. But if you walked around Curtis Hixon park, you would have no idea there is a pandemic going on. Masks are required to skate on the ice rink, but few other precautionary measures are actually being enforced. You can tell there used to be stickers on the sidewalk that encouraged social distancing, but those have since peeled off. Crowds swarm the bathroom sinks, making the sanitizing station an unsafe place to be, ironically. Hillsborough County has definitely placed holiday traditions over pandemic worries.
Changing Plans, Enjoying Traditions
Not all residents are being careless, however. 
Abby Hoyt, a sophomore at College of the Holy Cross, in Worcester, Massachusetts, also spent this semester at home. Every year on Dec. 26, her family throws a party, typically with more than 50 guests, but this year, they decided to cancel that tradition due to the pandemic.
"It's definitely worth being precautious," Hoyt said. "If we can save somebody's life by staying at home, I don't think the choice should be a difficult one to make."
The Simmons study showed that 20% of adults planned to cancel a traditional large meal, 33% planned to have smaller more intimate gatherings in person, while 9% were planning a large gathering/event.
Instead of planning a big celebration, the Hoyt family decided to spruce up their outdoor lighting display, bringing a little extra holiday spirit to their neighborhood. They also will do the bulk of their holiday shopping online at local businesses.
As for me, I'm learning that I still have so many traditions to enjoy, despite the circumstances. Yes, I missed the Curtis Hixon Tree Lighting for the first time in several years, and my family decided to stay away from the Christmas parades. But I'm safe and healthy with my two parents in Hillsborough County: the place we all call home. For me, that's tradition in itself.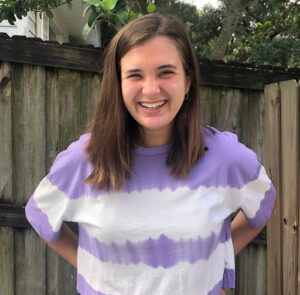 Macy McClintock is a sophomore at George Washington University, studying journalism and political science. She currently resides with her family in Tampa, Florida.