Climate Change and Resilience in Oregon's Food System
Neil Creek runs through the 86-acre "By George Farm" in the Applegate Valley in Jackson County, a College Town, where partners Tyson Fehrman and Jon Steiger raise animals and make cheese. When they bought the farm, they thought drought would not be an issue: water rights to the once-reliable Neil Creek were secured for the property back in 1863.
Oregon's wet winters and springs historically created healthy snow packs on the mountains, year-round glaciers, reliable streamflow, and long green grass to pasture animals well into the dry summers. After two months of drought and 25 consecutive days above 95 degrees, the Neil Creek water was shut off on July 9. The grass never had a chance to grow, and the 40 jersey cows stopped producing milk.
Tyson and Jon tried to buy alfalfa for the cows from the nearby Klamath basin, but the drought was even worse there, and the alfalfa was much more expensive than ever. Cheesemaking was paused and there was nothing to bring to farmers markets or sell. By George Farm lost more than $50,000 in revenue, an enormous amount for a small farm to shoulder.
These farmers are not alone in struggling with the impacts of climate change. In 2018, the Oregon Climate Change Research Institute described that fire seasons have lengthened "over each of the last four decades, from 23 days in the 1970s, to 43 days in the 1980s, 84 days in the 1990s, and 116 days in the 2000s." Organizations are mobilizing to help farmers with adaptation.
Oregon Climate & Agriculture Network, whose mission is to advance climate resilience on farms in Oregon through collaboration, education, policy, and advocacy, held a recent "train the trainer" workshop on climate resilience for agriculture professionals, where participants heard from five farms that successfully pivoted to endure climate impacts.
Sakari Farms in Tumalo, Oregon, in Rural Middle America's Deschutes County, was one of the farms forced to adapt after a devastating hail storm, damaging wildfire smoke, extreme drought, and the "heat dome" of 2021. Their irrigation was reduced to just once every other week. Farm owner Upingakrag Spring Alaska Schreiner, an enrolled member of the Chugach Alaska Native Corporation and Valdez Native Tribe, focused on cover cropping, organic soil amendments, seed saving, and improving irrigation efficiency. Spring and her husband, Sam, grow tribal peppers, tomatoes, beans, squash, herbs, and native flowers. They work in collaboration with the Central Oregon Seed Exchange as a unique cold climate seed bank: when seeds are saved in the climates where they are grown, they adapt to changing weather over time.
Small, diversified farms like By George and Sakari are too often unable to access federal disaster relief funds. They are ineligible for crop insurance. Oregon Community Food System Network members have come together to develop a Disaster Relief Fund to offer direct financial support to small-scale farmers impacted by drought, heat, or wildfire. Pending approval from Oregon's governor and the Joint Emergency Board, a portion of the $150 million allocated for natural disaster relief in Oregon will be allocated to small-scale producers.
The Oregon Global Warming Commission recently published a Natural & Working Lands Proposal with input from 1,000 individuals, organizations, and tribes. The comprehensive plan lays out a path to sequester carbon and achieve net neutrality in Oregon before 2040 with practical investments like planting more trees in urban areas, restoring wetlands, supporting regenerative agriculture, and centering indigenous stewardship. For example, the Confederated Tribes of the Umatilla Indian Reservation's (CTUIR) Native Plant Nursery grows approximately 70 native plant species. The CTUIR have been working with state and federal partners since 2016 to grow plants to restore sagebrush and bitterbrush in eastern Oregon after fires and revegetate natural wildlife habitats.
On a 115 degree day in June 2021, 38-year-old Latino farmworker Sebasian Francisco Perez died moving irrigation while working at a plant nursery in Marion County, Oregon, part of Graying America. Pineros Y Campesinos Unidos del Noroeste (PCUN), which has advocated for Oregon farmworkers since 1985, organized a series of vigils for Perez and called on Oregon Occupational Safety Agency, OSHA, to adopt emergency rules to protect farmworkers from extreme heat. OSHA now requires employers to provide sufficient water, shade, and breaks once temperatures reach 90 degrees.
Ira Cuello-Martinez, the climate policy associate for PCUN, said the new extreme heat rules are a step in the right direction, but there is more work to do. PCUN is also lobbying the state to set up a disaster pay fund for workers who forgo work in extreme heat and asking it to require employers to suspend operations when temperatures reach hazardous levels.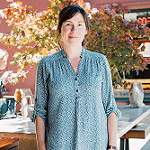 Sarah Sullivan is Executive Director of Gorge Grown Food Network, a nonprofit working to build an inclusive, resilient food system in the Columbia River Gorge of Oregon. Most recently, Sullivan and her staff launched one of the most robust Veggie Prescription (Rx) programs in the nation across five counties in two states with 40 health-care providers. More info can be found at http://www.gorgegrown.com/foodsecurity/