After Business Plunges in the Pandemic, North Dakotan Restaurateur Perseveres, Finds Resilience
As a restaurant owner, I'm asked almost every day, "How is business?" It's a hard question for me to answer. Where I live in Morton County, North Dakota, people don't like to hear someone complain, and admire who's in charge. To answer the question safely, I have to be apolitical and positive. So I answer: "You know…a bit slow…" In return I hear, "Yeah…it's like that everywhere." I think of these exchanges as the new "How's the weather?" small talk.
But here I need to admit the truth: Business is not good. I have two that are struggling: a catering company and a café, which I co-own with my wife. Both places were closed for two months. Although we fully reopened in mid-June with few restrictions, we are down 80% in traffic and have minimal catering bookings. Most catering events were cancelled; very few were postponed.
The only unaffected market: weddings. We have more bookings than usual this time of year for the 2021 season — 10 months away. Couples were the only clients who did not cancel their events, either postponing them or going ahead with much lower attendance.
My experience these past few months has taught me resilience and how to stay sane in the midst of this horrible mess.
Leveraging Assistance from Government, Banks, and Suppliers
A host of problems emerged immediately in the shutdown. Not only was no income coming in, but cancellations surged and required refunds. Quickly, I realized we were not going to be able to meet rent, services, and utilities after two months. These scenarios had never happened before, and I had no plans to deal with them.
Several entities helped stand in the gap. Unemployment benefits from the state and federal governments were a lifesaver. Without a doubt, these enhanced benefits were the single most crucial piece of help. I can't imagine how any of us who were required to close would have made it without them.
The city of Mandan and our banks were gracious as well. The city launched a generous 1:2 match program to help businesses develop a more effective online presence. With the assistance, we installed a robust POS system that connects to our e-commerce site. The city also postponed the renewal of liquor licenses and allowed businesses to sell liquor off-sale with the purchase of food.
Food and liquor suppliers found themselves in a tough situation when all food establishments closed. In turn, they were understanding and allowed any lingering payments to be late with no extra fees. The bank was a little less gracious. Although they deferred the mortgage payments, they continued to charge interest from April to June.
The state of North Dakota launched forgivable business loans for the purpose of "reducing the spread of infection, and instilling consumer confidence in the marketplace." This is a first-come, first-serve program, and unsurprisingly, the site crashed when applications opened on August 21. It remains to be seen how touchless toilets, sinks, and HEPA filters, or other suggested capital improvements will instill consumer confidence. At least, it might help mitigate the spread of Covid to guests who are not at all concerned about it.
While the Paycheck Protection Program (PPP) loan was theoretically a good idea and certainly helped us stay afloat, it competed with the more robust unemployment benefits. For us, PPP would have worked better if the pandemic had ended in late June or July.
As it stands, we will likely owe money. If I used the PPP loan as it was originally intended — spread over a two-month period — we would be closed today. Thankfully, the terms have changed to make it easier to repay. If business returns to normal, payment of the loan should be manageable. It hasn't so far. My hope is that the PPP loan will be fully forgiven for small businesses that took out less than $100,000. Our loan was only $35,000.
Now, as North Dakota has set the pandemic risk to low, I'm dealing with conflicting emotions and situations. I'm alarmed at the increase of Covid cases, in more debt from the PPP loan, not expecting anything from the federal government, and thanking covid-deniers for being our only customers.
Being Creative During the Downtime
In addition to financial assistance, what helped was managing the closure in stages — my team and I were always keeping busy. First, we caught up on nagging projects we never had time for. We stripped the wood floors, deep cleaned the kitchen and equipment, reorganized our storage space, and finished a handful neglected handyman tasks. We also invested in a new touchless POS system and a new e-commerce website.
The next stage was redesigning our catering menu and developing products that could be delivered or picked up. We created "Wednesday Pasta Night," in which we make noodles from scratch and pair them with classic Italian sauces. We offer these pasta bowls online for curbside or regular pickup. Customers have responded positively, and Wednesdays are fairly busy for us now. We hope this new pasta night will continue to be a hit as the weather grows colder.
We have also pivoted toward a contactless catering menu. Because buffet-style meals are not recommended now, we have been preparing rice bowls and other dishes that can be ordered online and delivered in individual containers. We hope these changes will entice an office or small gathering clientele. So far, the response has been lukewarm.
Managing Mood Shifts
The ever-shifting situation has taken a toll on my team. Although most of my staff members were on unemployment benefits, they were anxious about losing their jobs, getting sick, or dealing with their family's health issues. Two staffers lost their mothers, one to Covid and another to natural causes. One "fell off the wagon," and most experienced anxiety or depression. Some showed defiant and/or aggressive behavior that I never saw before. I dealt with it all by understanding that these outbursts were normal under the circumstances and not reacting emotionally. I am grateful we haven't lost a single staff member.
Now, one of our employees became sick and tested positive this past week, sending the exposed staff, including me, into quarantine. Luckily, we have no events for the duration of the quarantine, and will be able to rely on non-exposed staff for a small upcoming event. The exposed staff can finish quarantining while working from home or individually at the venues.
Becoming More
For my part, I struggled with boredom and bouts of negative emotions, as this was the first time in 15 years I had three months off. Yet I'm grateful for taking off my businessman hat and existing on a much more human plane. My wife and I cooked at home more — baking way too much bread! We talked more and spent more time with our pets (we don't have kids). I also read more, exercised more, and relaxed more.
It's been a time for me to reset and re-evaluate what I really want. My verdict: I enjoy what I do and don't want to lose my businesses. I'm doing a decent job of controlling what I can and letting go of the rest. These simple truths keep me moving forward.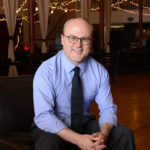 Edgar Oliveira, a resident of Mandan, North Dakota, owns a catering business in Mandan and a café at the state museum in Bismarck. He is also chairman of the board of the municipal parking authority and serves on the board of Morton County Social Services.